Uhuru Kenyatta: Climate crisis a threat to international safety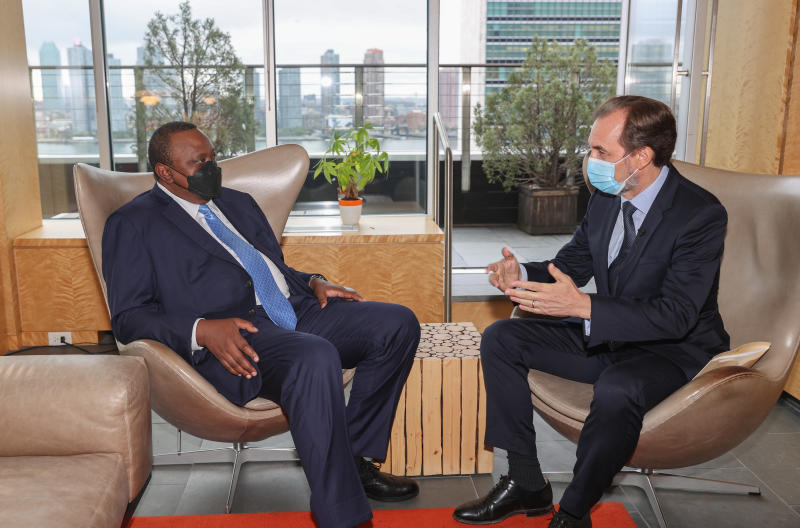 President Uhuru Kenyatta has warned that if left to fester, poor management of diversity and inequality will be the biggest cause of conflict in the world.
At the same time, Uhuru urged the world to include Africa within the international community and stop the zero-sum thinking that is making Covid-19, climate change and biodiversity loss insurmountable challenges.
He spoke at two events in New York - International Peace Institute and The United Nations Security Council High-Level Open Debate – where he chaired key events of the United Nations Security Council (UNSC).
The President pitched for diversity and unity, citing his political handshake with ODM leader Raila Odinga after the divisive 2017 elections, saying it was a demonstration to Kenyans that cohesion and unity was more important than political rivalry. "The handshake created a powerful surge of hope in Kenyans. Tempers cooled, we remembered that we were part of a Kenyan family and not defined by political rivalry," Uhuru, who is the rotational president of the UNSC, said.
Uhuru said the handshake was a political innovation that proposed to insert the safety, unity and prospering of Kenya at the core of our politics. "We sought to build those safety rails into how the state is structured and works through a national conversation," he explained.
While chairing the high-level meeting on diversity, state-building and the search for peace, he argued that inequality within and between states was the result of exclusion on the basis of identity.
Uhuru blamed stereotyping and bigotry for lack of employment or livelihood, communities and countries being unable to benefit from their natural resources, climate injustice and unfair trading system. "The result is a profound sense of grievance and bitterness that populists and demagogues can easily exploit," he said.
Uhuru pitched for a Global Africa, saying the continent's gain was a win for the world. "We need a new multilateralism with Global Africa at its heart. It will reject discrimination and racism as part of our way of doing business," he said.
Uhuru called for multilateralism to urgently respond to climate change, biodiversity loss, and multiple protracted security challenges. He said the world needed to "wake up and listen to Africa and rebuild multilateralism to be inclusive, fair and consistent."
He regretted that the world, especially Africa, was where it was with Covid-19 and delivery of vaccines because of the weakness of multilateralism.
The President said multilateral institutions were unable to deliver bold solutions to the Covid-19 pandemic, climate change, sustainable development, and protracted conflicts.