Police halt search for children as families talk about last moments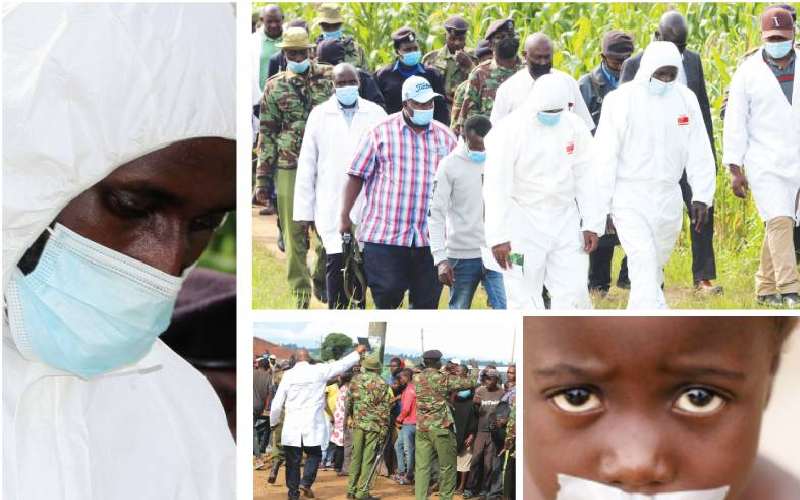 The search for more bodies of children believed to have been disposed of by self-confessed child killers in Nairobi and Uasin Gishu were temporarily halted yesterday as families recounted their last moments with their loved ones.
In Nairobi and after two visits to areas where Milimu Wanjala claimed to have disposed of the bodies failed to bear fruit, police called off the search. The suspension was also aimed at giving time to the DCI to present the suspect in court and seek more time for investigations.
On Wednesday night, investigators in the company of the suspect visited parts of Kitengela, where the man claimed to have disposed of some bodies.
Another team visited the areas near Pumwani and Majengo estates, where the suspect claimed to have buried his victims. The two operations did not bear results. DCI chief George Kinoti yesterday said investigators had documented how the suspect lured children.
On Twitter, DCI claimed that the suspect in their custody had been kidnapping and killing children for five years.
At the tender age of 16, the suspect lured and killed two minors from Kitengela and Mlolongo.
"As detectives pursue crucial leads to recover the rest of the bodies, it is our belief that the criminal justice system will serve justice to the innocent souls and relieve the heavy hearts of the mourning parents, siblings, and Kenyans in general," the DCI boss said in a tweet.
Kinoti said police investigations had revealed that the suspect sedated the children by administering some powder and eventually killing them.
Two bodies lying at the City Mortuary and which were recovered from Kabete area on Wednesday are yet to be identified.
The arrest of the suspect has brought to light the criminal operations of child abductors, at a time when the country is witnessing rising kidnappings of children.
In Eldoret yesterday, families who lost children in a series of murders in Moi's Bridge, Uasin Gishu County' recounted their last moments with their children, while demanding a thorough probe.
The main suspect behind the murder of five children aged between 10 and 14, Evans Juma Wanjala, had on Wednesday led a multi-agency team of investigators from the DCI, homicide, and forensics departments to the various scenes he confessed to have dumped the bodies of his victims.
The family of Linda Cherono, the latest victim murdered last month, says they are mourning their only child. Cherono, 13, who hailed from Baringo, had gone to visit her aunt in Moi's Bridge after completing her KCPE. She was expected to join Form One next month.
His uncle, Daniel Chebet, said she was a hard working, amiable and focused girl.
The suspect was captured on CCTV with the girl on the day of her mysterious disappearance, according to innvestigators.
"We are happy with the investigation so far and we hope justice will swiftly be served".
Sharon Sakwa, whose first born and only daughter Stayce Nabiso Achieng was killed on December 31, 2019, also told The Standard in Moi's Bridge yesterday that she has known no peace since losing her daughter.
She says that the girl was her best friend and she misses her dearly.
She recounted the fateful evening when she lost her for good, after sending her to a nearby shop.
But her daughter took long to return, prompting her to mount a search but in vain.
"Every day, I am pray that my daughter's perpetrators are arrested. Sometimes I lose hope because it has been almost two years without any report concerning the investigation into my daughter whereabouts. We now hope that the suspect who confessed to killing our children will be charged and face the law," said Sakwa.
Sakwa believes that there could be more accomplices still at large.
Lydia Vutare, whose third-born daughter Mary Eluza, 14, was found murdered and dumped in a sack in their neighbourhood on December 16, 2020, is also calling for speedy dispensation of justice.
Vutare recounts sending her class seven daughter on the morning of December 15, 2020, to fetch sacks that would be used to store their maize.
She never returned: "The next day I heard screams from our neighbourhood, my daughter's body had been found in a thicket. She had been defiled and strangled," narrated Vutare.
In the Nairobi incident, detectives from the Crime Research and Intelligence Bureau arrested the suspect, Milimu Wanjala, in his house in Kitengela.
The suspect then led the police to a bush in Kabete where two bodies of children aged 12 and 13 were recovered. One of the two victims has since been identified as Junior Mutuku Musyoka, 12. Another body recovered from the same area is yet to be identified.
Felister Wayua, Mutuku's mother, said she was still trying to wrap her mind around the callous acts of those that killed her son, whom the family reported missing on June 30.