Suluhu settles Kenya vs Tanzania language war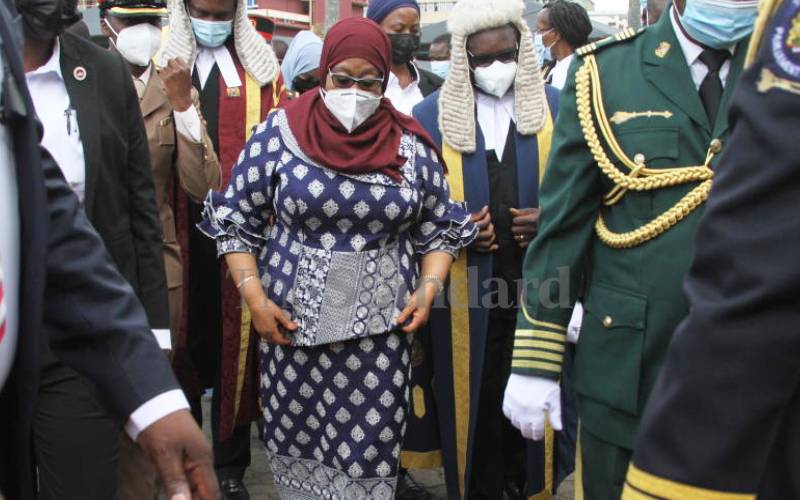 President Samia Suluhu's address to Parliament was a masterclass in charm, punctuated by periodic applause and stomping of feet by Kenyan lawmakers.
The Tanzanian President kept her voice calm and wooed MPs at every turn. To draw them in, President Suluhu spent time reflecting on the brotherly ties between Kenya and Tanzania that transcended their citizenry.
"Hata wanyama wetu wanapata mimba Kenya na wanazalia Tanzania," she said at some point and the MPs couldn't hold their laughter.
Amid thunderous laughter, Mama Suluhu's demeanor charmed the lawmakers, being the second Tanzanian leader to address the August House since independence.
President Suluhu chose to address Parliament in Swahili, but that was expected given former President Jakaya Kiketwe's experience.
The fourth Tanzanian President was essentially forced to issue an address in Swahili after he was done reading out his English speech.
Senate Speaker Kenneth was the bolder of the two speakers and chose to address the bicameral House in Swahili. His National Assembly colleague Justin Muturi opted for English, the easier option.
Aware that the lawmakers would struggle to follow her unadulterated Swahili, President Suluhu would sneak in bits of familiar words and phrases such as "bamba" and "vichochoro", and the MPs loved it.
Once she had broken the ice, she flattered the MPs by professing to be an ardent fan of their proceedings and enjoyed, among other things, their mature debates.
But, more exciting, she said, was the fact that the august House had adopted Swahili in their debates.
"Naenjoy kile Kiswahili," she said amid cheers.
"Kiswahili chenu kina vionjo vingi ambavyo peke yake ni burudani kusikiza," she added, making fun of the fractured Swahili many MPs speak in Parliament.
Then she went on to chide Speaker Lusaka for fumbling as he laboured to mouth a date in Swahili. More laughter.
"Leo mtajua Kiswahili," she said at another point, inadvertently settling the frequent Kenya and Tanzania Twitter wars over who was more fluent at languages.
There was no comeback to that. And Speaker Lusaka's attempt to prove a point by issuing his closing remarks in Swahili proved comical when he adjourned the joint sitting session.
But the visiting President would console the Kenyan MPs when she said their learning would happen "hatua kwa hatua".