Night guard mauled by a hyena seeks compensation from KWS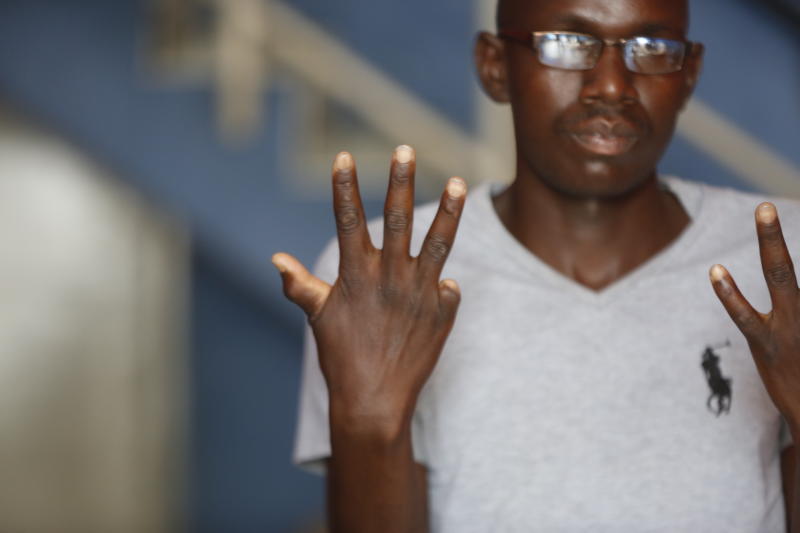 A man is seeking compensation for his injuries, two years after he was attacked by a hyena in Olkeri, Ongata Rongai.
Dismas Kogo, 27, was mauled by two hyenas on January 7, 2019, losing one of his right fingers, dislocating his right thumb and suffering deep-cut wounds on his right leg during the attack.
Kogo told The Sunday Standard that on the fateful day, he was walking home from the Institute of Primate Research in Karen, where he worked as a security officer attached to Gordon Davies Security Company.
He said that at around 6.30am, he was caught unawares and knocked down by two hyenas that emerged from one side of the road.
"I fought with the hyenas to avoid being eaten alive. One grabbed my foot, took my shoe and fled into the bush. The other one was near my face and I was fighting back," he said.
Kogo said that he tried to block the beast's teeth from reaching him. He attempted to punch its face but his hand entered the hyena's mouth instead.
"My small finger was bitten off. When I attempted to punch it for the second time, my right thumb was maimed," he said.
The brave man dragged himself up in pain and tried to run away, only for the hyena to grab his foot and rip apart his trousers.
"After tearing my trousers, it bit my foot. I was lucky because athletes who were nearby came to my rescue and chased it away, before taking me to Mbagathi Hospital," he said.
At the hospital, Kogo received a rabies shot, and his wounds were dressed before being discharged.
He was later informed that the rogue hyena had been killed a few days after the attack, after allegedly attacking three other people.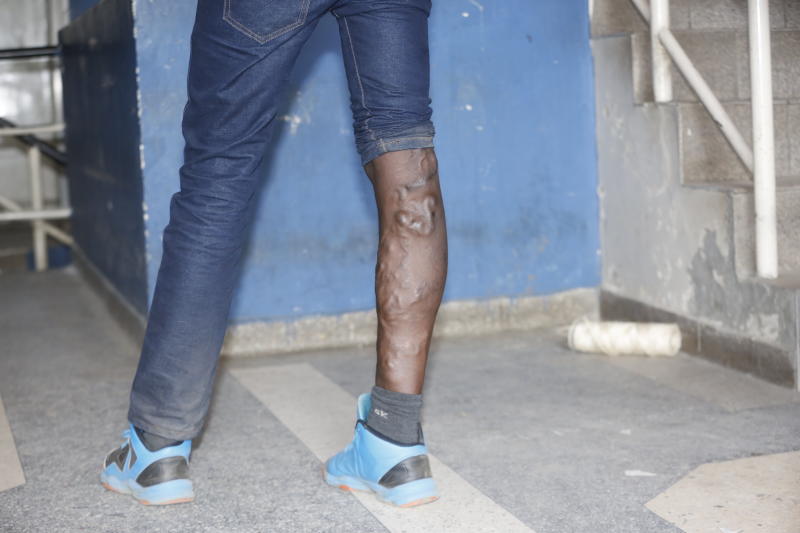 "Since my attack, my right thumb was weakened. I cannot lift heavy items nor can I work. I am hoping that I will be compensated for the attack," he said.
The incident was reported at the Ngong Police Station under OB 62/8/1/2019.
A medical report filed on May 26 last year by a Dr Wambani Benjamin showed that Kogo suffered grievous harm. The report showed that his right hand's little finger was amputated, thumb maimed and both hands were bruised.
"The victim's right leg near the knee had multiple healed deep cut wounds and bruises. The injuries are seventy-three weeks old," the report read in part.
The report further suggested that Kogo's injuries emanated from "mauling by teeth and claws of a carnivorous nature."
Kogo wrote a letter and a compensation form was filled and sent to the Kenya Wildlife Service (KWS) dated May 22, 2020. It was signed by Olkeri location chief Jonathan Kerorio.
Documents seen by The Sunday Standard show that the form and the letter were received by the KWS warden on May 29, 2020.
But one year later, Kogo has not been compensated for his injuries.
He is now pleading with the KWS to be compensated, saying that he needs money to pay for X-ray scans because his right leg has started swelling and it gets painful whenever it gets cold.
"I pray that somebody hears my cries and compensates me. I can no longer work properly yet I did before, and I need income to feed my family," he said.