Verdict on doping case haunts Wekesa's quest for CJ seat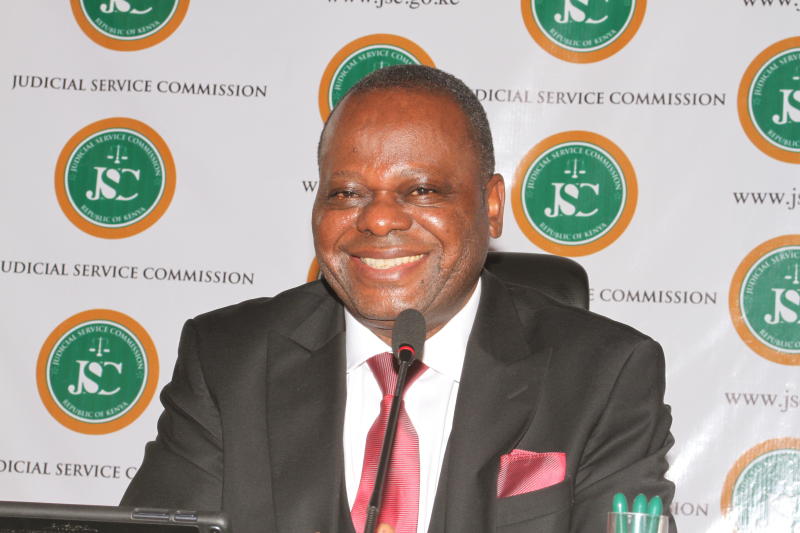 University don Moni Wekesa's handling of a case in which athletes were accused of doping came back to haunt him in his quest to be the next Chief Justice, as he was put to task to explain his decision.
Prof Wekesa was hard-pressed by the Judicial Service Commission to explain complaints filed by the Kenya Rugby Union as to why he condemned three players who were on national duty without hearing their side of the story. They had been accused of using banned substances to enhance performance.
But Wekesa said he made the decision when he chaired the Anti-Doping Agency of Kenya on account of interviews and samples taken from the players, and that he had no intention of unfairly punishing them or ruin their careers.
"We took the decision at a time when there was an outcry of Kenyan athletes using steroids and other banned substances and although we didn't summon the named players, we had conducted research that informed our decision," said Wekesa.
Having practiced law for only 16 years, Wekesa defended himself saying the position of CJ only requires a person with good leadership and management skills.
Among his achievements, Wekesa said he brought an end to the perennial hooliganism between Gor Mahia and AFC Leopards fans when he chaired a disciplinary committee that imposed sanctions on the two clubs to control their supporters.
He admitted that he has not handled any big case that has brought jurisprudence in the justice system since most of his cases end at the High Court, but that he has written a lot on law, which gives him enough experience to head the Judiciary.
Having tried his hand in several disciplines including politics and a Sunday school teacher, Wekesa said a tendency to jump from one profession to another is not a weakness but the ability to see a new opportunity and grabbing it.
Take a quick survey and help us improve our website!
Take a survey
"Let us not talk about where my strength is in relation to the many titles and qualifications I have. I am like a computer with so many folders to store files. I am able to mix all my roles and if you look at my papers, I am extremely qualified in all the positions," said Wekesa.
He said his participation in politics in 2007, 2013 and 2017 where he lost in the race for Navakholo MP taught him lessons on relating with the people, which he will use to network with other arms of government if he becomes the CJ. [Paul Ogemba]
On corruption in the Judiciary, Wekesa said he has never encountered any incident during his law practice, but that his strategy will be to engage those who pay bribes through advocacy.
If nominated as CJ, Wekesa said his priority would a meeting with heads of departments to agree on a common goal.
On the stalemate of appointing 40 judges nominated by the JSC, he said he will engage President Uhuru Kenyatta in a structured dialogue but if it fails, he will use the people to exert pressure on Head of State.
Asked why he prefers being referred to as Prof Dr Moni Wekesa, he said that it is because he wants to distinguish the two doctorate degrees he has in sports, science and law.