Mike Sonko: Son of strict mother who enjoyed being with people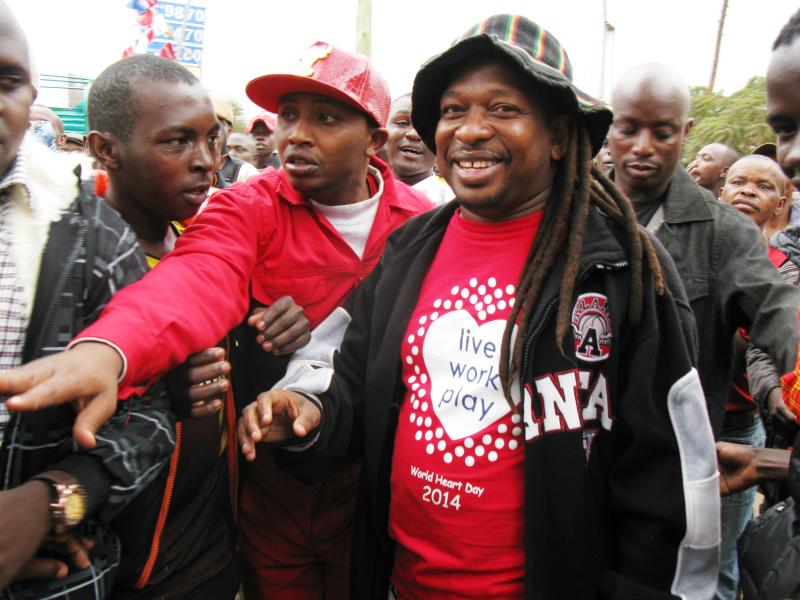 Former Nairobi Governor Mike Sonko's palatial home in Mua Hills Machakos is a world away from the house where he spent part of his childhood in Majengo, Mombasa.
In Majengo, there are no long drive ways lined with cabro blocks. Instead, there are short potholed paths. Sometimes, they are muddy and during dry whether, they are dusty.
In place of the lush gardens of Mua Hills, here, the ground is bare. There is no view from the top of the hill. There is no luxury of privacy. There are no walls running around the perimeter. In the house Sonko grew up in, be silent for a minute and conversations from next door will make their way into your living room. The walls of the houses too thin to contain much.
But Majengo has a certain spirit that sits on everybody who has passed through the estate. There is a certain joie de vivre. There is a certain exuberance, a certain sparkle that resides in the eyes of residents. The same sparkle that lingers over the eyes of Sonko, Nairobi's former governor.
Apart from the sparkle, Majengo also holds some secrets of the former governor's life.
Before the fame, before the bling, before the antiques. Before money and power. Sonko was a staunch Muslim who went by the name Hamis Kioko. His close friends referred to him 'Kabumba'.
As a boy, Sonko's late mother Saumu Hamisi enrolled him to study Islam at Madras opposite Mvita Primary School near their house. His Madras teacher was the late Mwalimu Makanju.
"Sonko learnt Islam at a madras here. His name was Hamis Kioko. He was named after our late father," Mr Kea Hamis N'tomeru, Sonko's uncle told The Standard.
Mr Kea is late Saumu's brother. The late Saumu worked at the Standard Chartered Bank's Treasury Square branch in Mombasa for many years.
"She would be referred to as the bright girl of Majengo. No one imagined a girl from Majengo could join Waa Mixed Secondary School and excel in her studies," Kea says.
God-fearing woman
Neighbours remember Saumu fondly.
"She was a polite but strict woman. She was a God-fearing woman and that is why she insisted that Sonko must go to a madrasa," said Margret Kisiengo, alias Ambassa, who was Saumu's best friend.
Mr Kea said Sonko's maternal ancestry is in Mujwa village, Igembe Central in Meru County while his late father, Gideon Kioko Kivanguli, was from Machakos.
It is not clear when Sonko's grandfather, the late Hamisi Mmeru, arrived in Mombasa from Meru but it is said he converted to Islam after he married Ms Mwanaidi Ibrahim from Kwale County.
Sonko is the first born of three children. The family is said to own several properties in Mombasa's Majengo, Mvita, Mishomoroni and Mtopanga and in Kwale.
"Our parents were Muslims so Saumu and I had no option, really. Sonko also had to go to the madras," said Kea who criticized the the government accusing it of waging a war against their son.
According to Kea, Sonko's cousin Abdhallah Kea Hamis and other villagers in Majengo, the former county chief went to Kikowani Primary School and later joined Kwale High School.
"He was born in 1974, just a year after me. We grew up playing football together," said Abdhallah. "We nicknamed him Kambumba because he was a good football player. He was actually the team captain of our club in the village. He has something that makes people want to coalesce around him. Since he was a kid, he moved around with crowds."
Mr Abdallah said after Sonko completed studies at Kwale High School, he joined his father's property business. The father then had an office near Casablanca Club in Mombasa.
Followed him
Other reports indicate that Sonko was a bright boy. In school, he was the leader of a group of students who always followed him.
"The firm was called Gideon Properties. It was involved in real estate but in mid 1990s, around 1995 or 1996, the business went down and the father relocated to Nairobi," said Abdhallah.
Other sources say after Sonko's father relocated to Nairobi, the former governor briefly joined another property firm called Ukweli that was owned by a Mr Kamau.
"His first one million shillings was a commission he made after he brokered the sale of a property in Kwale," said Robert Nahashon, Sonko's childhood friend.
He said Sonko was also a close to former Coast political supremo and Mvita MP, the late Sharif Nasir, who he supported in the 1997 campaigns to recapture the parliamentary seat.
Another property developer, Peter Thuo, said Sonko thrived in the property market because he was close friends with then Mombasa District Land officers.