Judge wept for justice, but did not promise to fix all problems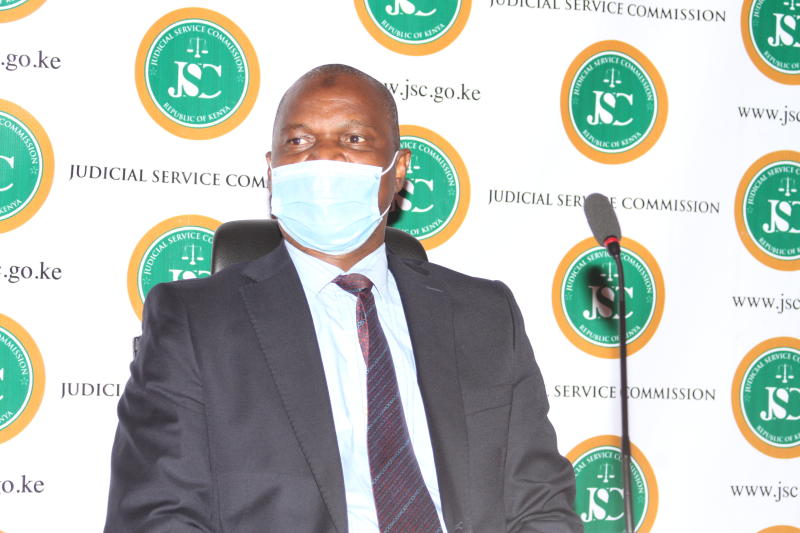 Kwale-born Justice Said Chitembwe flipped a Uniball SX-217 rollerball pen between his fingers and shed a few tears and wiped them dry with a serviette. But what he did not do was to promise heaven.
As Justice Chitembwe fielded questions from the nine-member Judicial Service Commission on his suitability to replace former Chief Justice David Maraga, other parties were working to terminate the proceedings.
In a last-minute dash, Tophlin Nafula sought audience before High Court Judge Antony Murima to persuade him to stop the interviews because acting Chief Justice Philomena Mwilu was not spearheading the process.
Justice Murima, however, declined to issue the orders sought. Instead, he sent the petitioner's file to Justice Mwilu to appoint three judges to hear the case. The matter will be mentioned tomorrow at noon.
Back to the man of the hour, Justice Chitembwe made his pitch as 18 eyes closely watched his every movement. The JSC members were all ears as the judge described his vision for the Judiciary if he clinched the coveted position.
The judge wore a navy blue suit, sky blue shirt and tie. The cufflinks on his wrist matched the suit while a silver watch hang loosely on his left wrist. The right hand switched duties between jotting down notes and twirling the SX-217.
The interviewers were tough but it was soon clear the judge was made of stern stuff and would not be cowed into giving 'comfortable' answers on thorny issues. This was a man who was going to speak his mind.
When asked by the commissioners whether he could have chosen his words more carefully when writing the judgement in a case where he freed a man accused of defilement, the judge said he would not 'massage' his language 'because the victim behaved like an adult'. His critics, he added, were free to judge him on the merits of the case.
"Robbery with violence is no longer an issue. Prisons are full of young men jailed for defilement. Anybody who defiles a person under the age of 18 is guilty. How do you take a 19-year-old for having a relationship with a 17-year-old girl? How?
"Somebody else would have written it and massaged the paragraphs. I did the best and the number of magistrates who have told me I have freed them from the shackles of the Sexual Offences Act are many," he said.
On the matter of a two-year stalemate between the Judiciary and Executive on the appointment of 41 judges, Justice Chitembwe declared he had no magic wand that he could wave to make things right. Instead, he laid the blame for the impasse squarely at the feet of the JSC.
The issue of swift justice also arose, with the judge faulting a decision to prioritise the building of courts in areas that handled few cases at the expense of places with heavy litigation. If he became CJ, he added, no new projects would be started until all ongoing construction was completed.
Some of the new buildings, he noted, could have waited another five years because they were not needed. And even if they were donor-funded, the judge said he believed that more deserving regions should have been prioritised.
If he becomes the next Chief Justice, Justice Chitembwe said his style would not be to walk around with a whip to ensure that people were working. And he would not start any new projects in the first 60 days but instead strive to complete the work left by Maraga.
The judge confessed to having had a workaholic nature in his pursuit to expeditiously dispense justice to the public. This resulted in ill health and a diagnosis of diabetes. As a result, he said, he had to learn how to have a work-life balance.
Justice Chitembwe told the commissioners that he knows where the shoe pinches. "I have been in this Judiciary for 12 years now. I have seen it from when it was difficult to have a pen to write, and I have seen what my predecessors have done. The Judiciary needs a person who is energetic and resourceful."
At one point, he shed tears as he reflected on how he was accused and tried for corruption. He was later acquitted. The judge had been charged with abuse of office when he served as secretary of the National Social Security Fund.
"It's good you have asked these questions. As you sit as a judicial officer, you should be able to sift out what has been brought for serving other purposes and what has been genuinely brought as a court case," he told the panelists.
It also emerged that the Kenya Revenue Authority had not cleared him for the interview. He said he had paid what the taxman demanded and agreed to submit a clearance certificate before JSC reaches its decision.
On his philosophy, he said that the law should work for man and should applied to suit the prevailing circumstances.