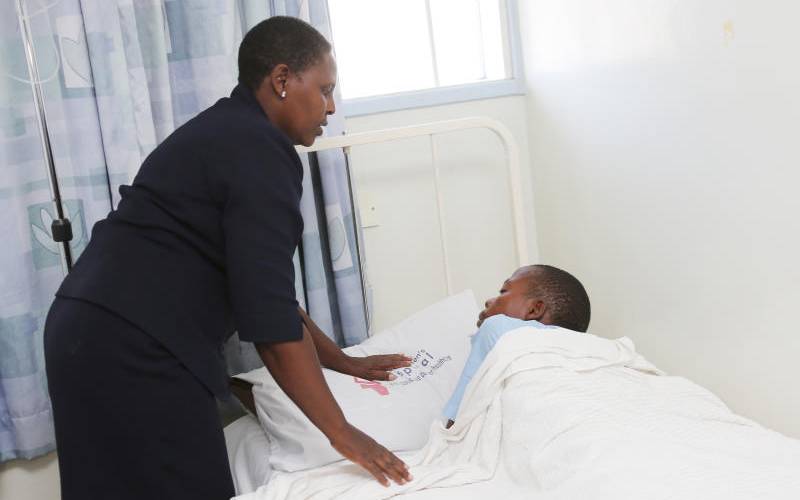 It has been three years since Samuel Kamau took his life, but his mother has never found closure.
She still dreams of the grandchildren Kamau would have given her had he still been alive. He was 34 years old by the time he died.
What saddens her more is the fact that the person who led her son to an early grave is enjoying life somewhere. She was never brought to book for pushing Kamau, who lived in Free Area, Nakuru County, at the time to end his life.
Kamau's case mirrors that of many other gender-based violence victims whose families still hang on to hope that they will one day get justice for their departed sons and daughters.
Kamau is said to have committed suicide when he could no longer bear the shame of living without his manhood, which was chopped off by a sex worker after they differed over payment.
Read More
After the incident, Kamau drifted into depression and exactly a year later he killed himself.
The woman identified as Pamela escaped immediately and four years later she has never been arrested.
Kamau's close friend Elam Kuria, a taxi driver, vividly recalls the incident, saying with all the evidence tabled on the woman who committed the crime, she could have been arrested by now if the police were serious.
Free Area Chief, Stephen Macharia said victims of gender-based violence, more so men, suffer in silence as they shy away from reporting such cases.
Many gender-based violence victims are often left frustrated after their tormentors go scot free.
Macharia, who was among the people who took Kamau to the hospital, said not even counseling could have saved his life.
"The fact that he could no longer be the man he was meant to be caused him so much pain and suffering. The victim was living a desperate life which is the case with so many men who opt to take their lives than talk about being abused," said Macharia.
In another similar incident, a 16-year-old boy in Magare in Rongai sub-County had his manhood chopped off for failing to Sh20 at an illicit brew den.
The person who committed the crime was, however, arrested and the case is still ongoing.
Notably, at least 2,290 cases of gender-based violence have been reported across the country from March to September, according to the Gender Violence Recovery Centre (GVRC).
The number of reported cases continues to rise, despite the relaxation of Covid-19 containment measures.
For example, in March, 363 cases were reported, 272 in May, 291 in June, with the months of July, August, and September, recording 368, 324 and 371 respectively.
Reported cases
At least 47.3 per cent of the reported cases are of girls, 44.1 per cent women, 5.6 per cent boys with only 3 per cent of men having reported.
"The presence of Covid-19 and its social-economic effects heightens vulnerability and inequality worsening a situation which was already bad before Covid-19," reads a section of the report documented by GVRC.
Lockdowns to curb the spread of coronavirus have fuelled an upsurge in gender-based violence across the world, with women and girls more isolated and vulnerable to abuse and exploitation, according to human rights campaigners.
Social and economic strains - compounded by strict limits on movement - have not only made women and girls been more prone to physical and sexual violence, but also more vulnerable to sexual exploitation, the campaigners say.
Reports from some regions also suggest hundreds of girls may have been forced to undergo female genital mutilation in recent months as communities take advantage of school closures and prepare their daughters for marriage.
In July, the president ordered an investigation into rising reports of violence against women and girls - including rape, domestic violence, female genital mutilation and child marriage - as a result of coronavirus restrictions.