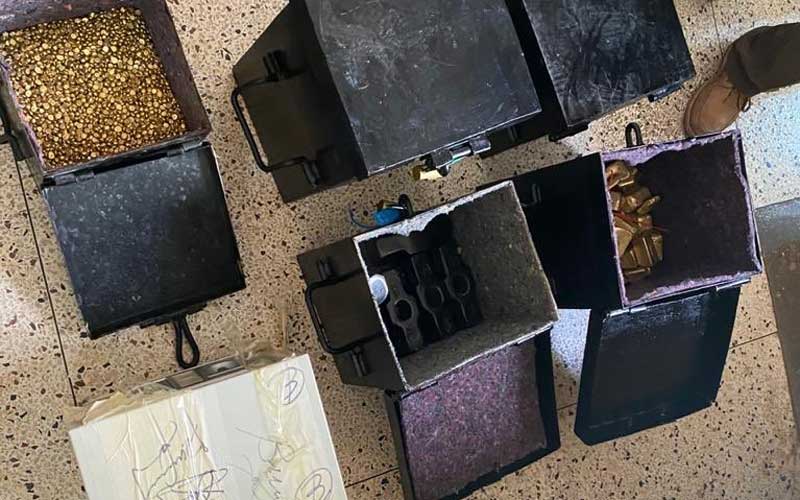 Detectives from the Serious Crime Unit at the Directorate of Criminal Investigations are holding two people suspected of conning a foreigner in a fake gold scam.
Jackson Maina and Awuyene Mbombo – both directors at Airlink Freight Limited – were arrested Thursday night at a house on Covenant Drive, Lavington, Nairobi.
The officers said the raid followed a complaint by a Burkina Faso national who had been swindled "a substantial amount of money".
The Burkinabe told the police, the suspects had promised to sell him gold but conned him between October 27 and November 16.
Read More
During the bust, four metal boxes containing fake gold nuggets, assorted stamps and gold smelting equipment were recovered, the detectives said on Twitter.
The DCI has appealed to any other person who might have fallen victim to the syndicate to file a report at the Serious Crime Unit offices at Mazingira Complex on Kiambu Road.
In September, some four other suspects were arrested for allegedly obtaining Sh29 million from a foreigner in the pretext of selling him gold.
The men are reported to have posed as police officers attached to the DCI while engaging the foreigner.
The cases add to a growing list involving marauding businessmen cheating foreigners off large sums of money in fake gold scams.
DCI boss George Kinoti has in the past urged embassies to "advise their nationals coming in for business to be apprised of con business of gold going on in the country and first contact the Department of Mines and Geology for the procedure that pertains to buying and selling of gold and other precious metals".
Mr Jackson Maina and Awuyene Mbombo will be arraigned on Monday.