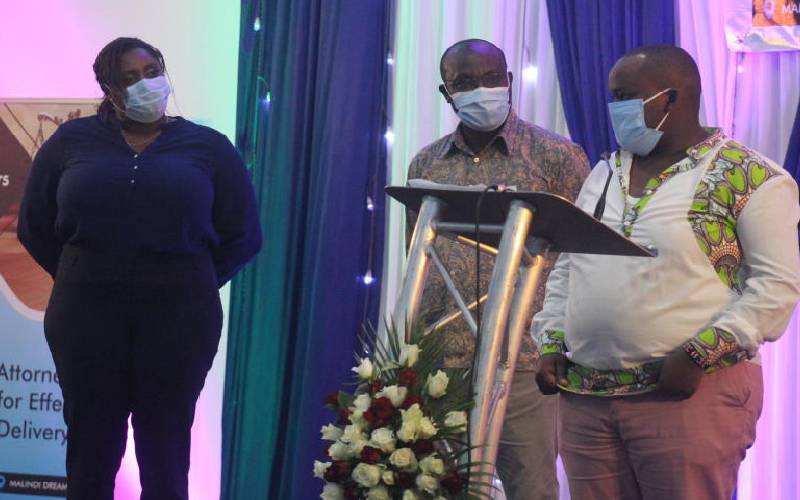 The County Attorneys Forum (CAF) has refuted claims by the public and civil society groups that its members are in office illegally.
Bibi Fondo, the chair of the forum said the county lawyers automatically got in office when President Uhuru Kenyatta signed the County Attorney Act 2020 in July.
"At least 12 counties saw their county legal officers automatically elevated to the position of the county attorney and took an oath of office, having met the five-year practising experience while under the county governments since 2013," she told the media in Malindi.
Activists in some counties have moved to court to challenge the legality of those who took an oath of office without going through the County Public Service Boards and vetting by the county assemblies.
But Fondo said that the Attorney General's office advised the Council of Governors to allow those serving as county legal officers to transit into the new offices immediately.
"The Council of Governors sought advice from the AG's office on whether the transition of the county attorney is automatic and the AG confirmed the transition should be automatic and the governors were bound to allow the transitions to happen," she said.
Section 31 of the Office of County Attorney Act 2020 states that the person who was carrying out the functions of the county attorney as envisaged by law has the necessary qualifications to be elevated to the county attorney.
"Already, 12 have transited and we are urging more county governments to allow the transitions to go on. They should support the office of the county attorney by adequately giving them financial aid and resources to enable them to implement the functions as prescribed by the law," she said.
County attorneys officeholders will now be members of the Cabinet in their respective counties and will have their funds allocation passed by the assemblies.
"This act elevated the county attorney to a member of the executive committee and for which we are very delighted and we shall have our own budget that will be audited by both the county assembly and the Auditor General," she said.
The county attorney will also play a pivotal role in the implementation of the Fourth Schedule of the Constitution in drafting laws for the county governments.
Fondo said county attorneys will put in place the necessary laws for purposes of enforcement of the Act and other county laws to promote cohesion among residents