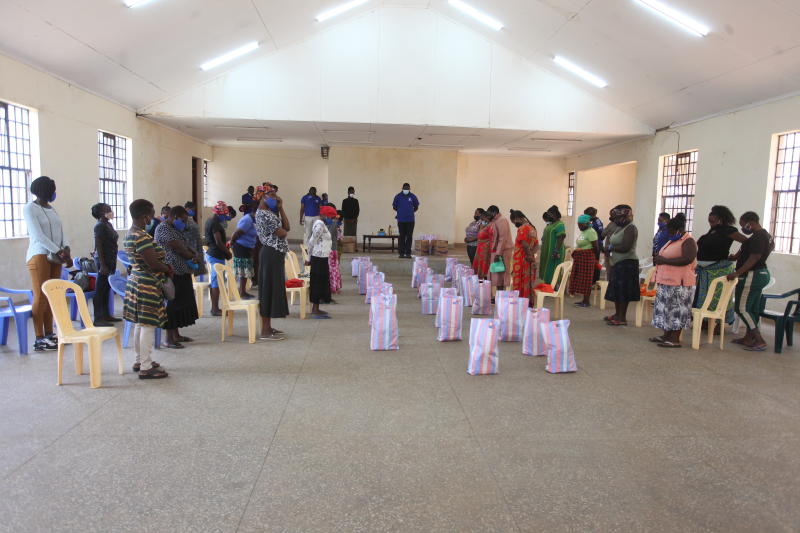 Grace Muthoni wearily trudges for ten-minutes to cover the distance between the Canaan Social Hall and her house in Kibra slum, Nairobi, gracefully bearing the discomfort of the sweltering heat and occasional waves of dust that are blasted onto her face by matatus.
She has to contend with the sickening stench of the coal-black sewage in storm drains.
And although she looks well physically, Muthoni tells The Standard that her body has not been the same since June, the last time she got Septrin, a crucial drug that protects people living with HIV from acquiring opportunistic infections.
"Septrin was good. At least it gave me relief. But now I feel fatigued all the time even though I am still using other HIV medication," she feebly says as she struggles to walk, with a heavy load of food donation from the Kibera Reformation and Transformation Centre (KRTC), on her back.
Donated food
Read More
KRTC donated food to more than 30 women living with the virus in the slum, mostly jobless unmarried mothers, last weekend.
Since the outbreak of Covid-19, Muthoni and her four children aged between five and 18 years have not been eating well.
The 39-year-old was diagnosed with HIV last year. At the time, her weight had hit a record low of 40kg. After she started taking anti-retrovirals, her weight increased to 64 kg.
As the pandemic devastates livelihoods, Muthoni and other financially challenged HIV-positive women, risk losing the gains they have made.
"My uncle used to help us but he passed on in April, so it has been challenging since then," she says. Currently, she scrambles for menial jobs after she was dismissed by her employer because of the pandemic.
"The bosses in South C estate where we do laundry said they don't want casual workers because of the risk of Covid-19, so it has been almost impossible to find work," she says during the interview in her dimly-lit mud house.
KRTC has been soliciting for food and other resources from well-wishers to aid vulnerable groups in Kibra, such as persons living with disability and women living with HIV.
"We give them sugar, rice, cooking oil, maize flour, and wheat flour. Such food items are crucial to the survival of the patients," KRTC founder Isaac Lumwachi says.
"The people living with HIV have a big challenge of nutrition, yet it is difficult for the medication to be effective without proper diet, so we help where we can," Lumwachi adds.
He reveals that with Covid-19 effect on incomes, it has been difficult for the organisation to adequately support vulnerable groups.
Aside from providing food, Lumwachi has also been actively lobbying the government and other health organisations to provide Septrin and Nevirapine, critical prophylaxis that prevents mothers living with HIV from passing on the virus to their babies.
Muthoni says her two friends were unable to leave their houses to collect food as they are critically ill because they lack Septrin.
Like Muthoni, Paula, a 46-year-old Kibra resident and a HIV ambassador who has lived with the virus for 16 years, says that the pandemic has hit women hard.
"No one is thinking about people living with HIV and Aids. The government is only providing drugs, but it does not bother to know other aspects of their survival.
"The patients are not getting Septrin, which is crucial in preventing opportunistic infections, only those with a high viral load are given. Many of the patients are jobless and cannot even afford food which is critical to their wellbeing," she says.
Laura Bayo, 47, admits that she is going through tough times.
Laura, a community health volunteer who has been living with HIV since 2006, says that many women in slums are torn between buying medicine and fending for their children.
"You never hear about people living with HIV receiving help from the government, yet others such as the disabled are receiving help. We are just on our own," Bayo says.
The unmarried mother of five says she has been jobless since March, and is barely getting by, but has been lucky to receive support from her family. Occasionally, she gets casual jobs like doing laundry which do not pay much.
"Surely, you can't take drugs on an empty stomach. There will be drug interruption, the drugs won't work. There are two women I know who are extremely weak yet cannot afford food," Paula says, adding that many patients are bedridden because of opportunistic infections.

Challenge with distribution
Nelson Otwoma, the chairperson of the Network Empowerment of People Living with AIDS in Kenya, admits that there is shortage of prophylaxis.
"For children, we have been having a challenge with prophylaxis, in particular, Nevirapine and Zidovudine. We followed up with National Aids and STI's Control Programme and Kenya Medical Supplies Agency (Kemsa) and realised that the country has adequate stock of Nevirapine syrup but there is a challenge with distribution.
"The drugs are lying at Kemsa's warehouse because counties still owe Kemsa," Otwoma says.
Nevirapine syrup reduces or eliminates the chances of mothers living with HIV passing the virus to babies during delivery.
Otwoma explains that supply of Septrin was affected after the funding for President's Emergency Plan for Aids Relief (Pepfar) was reduced.
"Septrin is missing totally because it was being supported by Pepfar but since 2018 they said Kenya should take care of it. However, the country delayed in procuring the drug. The procurement has now been initiated but it will likely take between six and nine months," he says.
Septrin is a prophylaxis for adults living with HIV. He notes that medicine relieves cough, chest infections, prevents malaria and boosts the immunity.
Otwoma warns that the shortage of drugs could make people living with the virus vulnerable to other infections.
He further notes that challenges in accessing food could push desperate mothers living with HIV to breastfeed their babies, putting them at a risk of contracting the virus.
In view of the drug shortages, Otwoma estimates that Kenya will fall short of its target of reducing new HIV infections, which was to be achieved by 2015 but pushed to 2020.
He says the drug shortage may derail the country's fight against HIV, and cause more infections among children, who are more susceptible to the virus due to the shortage of Nevirapine.