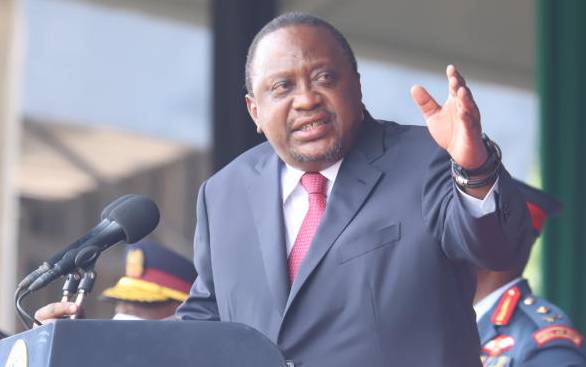 President Uhuru Kenyatta and First Lady Margaret Kenyatta are the first Kenyans to receive Huduma Namba card.
Interior Cabinet Secretary Fred Matiang'i alongside the Attorney-General Paul Kihara presented the two with the on Tuesday afternoon during the Mashujaa Day event in Kisii County.
While handing over the sample cards, CS Matiang'i said the process of rolling out the issuance of the cards was complete. He said the Ministry was just waiting on the National Assembly to approve the appointment of data commissioner.
"You and the First Lady will be the first recipients of the sample Huduma card, which we hope to be rolled out as soon as the National Assembly completes the process of the appointment of data commissioner as directed by High Court," CS Matiang'i said.
Read More
The president had already appointed former IEBC official Immaculate Kassait as the Data Commissioner pending parliamentary approval. The position came into effect after the Data Protection Act became operational.
The Dr Matiang'i explained that the Huduma Namba is meant to coalesce all the individual data into one database card which will be used in service delivery across the board.
"It's intended to basically integrate personal data so that every Kenyan gets a single identity, we call a single source of truth or in Kiswahili Huduma Namba…it is my pleasure to report that this process is complete and we have actually developed the Huduma Namba," he said.
He then invited the president to present sample Huduma Namba cards to 10 other people, among them political leaders.
Uhuru praised the initiative saying it will help Kenyans access government services by limiting the bureaucratic processes that used to exist in service delivery.
"…Huduma Namba will make it easier for a Kenyan to access government services. This will eradicate long queues in government institutions which normally take time. People can continue with their work easily afterwards," he said.
On February 1, 2020, the State announced second roll-out of the National Integrated Identification Management System (NIIMS) registration that would target those who failed to register in the first phase.
With only 37 million people turning up for the registration in the first phase, CS Matiang'i revealed that the government was putting measures for the exercise but failed to stipulate a timeline.
"The government will now implement legislation, policies and a regulatory framework for Kenyans to finally acquire a Huduma Namba and a Huduma Card," a statement from Interior Ministry read.
This was after it emerged the way formula of handling personal data was questionable in reference to the demands of Data Protection Act.
The process has already gobbled Sh7.7 billion, with an estimation that additional Sh1 billion is required for the next phase.