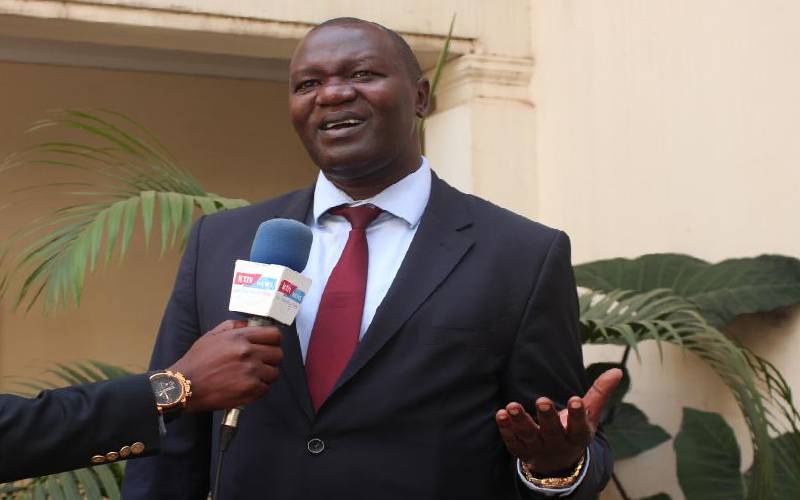 A decision by the National Lands Commission (NLC) to hire a lawyer to represent it in a Sh7.8 billion land case has come back to haunt it.
The commission will legally face it off with former LSK President Tom Ojienda in an application in which he is claiming Sh166 million for services he rendered in the case the commission lost in the High Court and later on won before the Court of Appeal.
Environment and Land Court Judge Stephen Kibuja ruled that the commission had retained the lawyer for the job in November 2014, adding that it should also pay the lawyer the costs he incurred in opposing an application that sought to stop the payment.
NLC had filed an application in court seeking to stop taxation of the advocate's bill of costs and a determination on whether a retainer existed between Ojienda and the commission.
It also wanted the taxation dismissed on grounds that it had called for investigations to be conducted on the matter by relevant agencies. In an affidavit sworn by the commission's Director Legal Affairs, Brian Ikol, NLC claimed it was a stranger in the bill of costs filed on January 5, 2018.
Ikol claimed that Ojienda purported to have acted for the commission while there was no evidence that he attended court at any time on its behalf, adding that the letter relied on in the taxation application was not signed and did not emanate from its offices.
However, in his response, Ojienda said he received instructions from the commission's Director of Legal Affairs in a letter that was signed by M/S Kaptuiya Cheboiwo in November 2014 to represent it in the land case filed by the estates of William Leting and Joseph Yator.
It is in this case that NLC was ordered by the court on April 15, 2016 to compensate the estates Sh4.5 billion after Justice Anthony Ombwayo found their families were illegally evicted from their land in Langas Estate in 1968.
In the estates' claim, the Eldoret Municipal Council and Uasin Gishu County Government are said to have continued to collect levies and even approved settlement to illegal settlers.
The court was told that the two estates together with one Noah Kimngeny Chelugui, also deceased, and Cherwon Arap Maritim purchased land measuring 3,236 acres from Jacobus Hendrick Englberech as purchase in common with equal shares at a consideration of Sh360,000. Appellate judges Erastus Githinji, Jamila Mohamed and Otieno Odek ruled in favour of NLC on December 6, 2018.