How counties utilised Sh3.4B Covid-19 funds in four months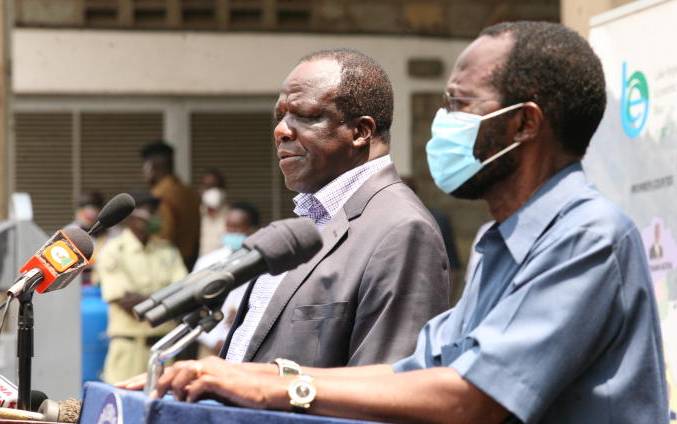 A new report has revealed that many counties spent Covid-19 funds on non-essential items instead of focusing on key interventions to curb the spread of coronavirus.
The report by the Office of Controller of Budget showed the devolved units spent Sh3.4 billion disbursed to fight the pandemic on items such as settling pending electricity and water bills, buying lubricants and purchasing merchandise.
The money was part of Sh13.1 billion allocated to the Covid-19 fight.
Although an audit of the funds is yet to be done, a quick look at the special budget review implementation report on the utilisation of the funds from March 13, when the first Covid-19 case was reported and July 31, also showed that most of the funds were utilised on logistics, conferences, seminars and board meetings.
Of Sh106 million spent in the four months in Baringo County, Sh58 million was used to buy foodstuff, drinking water, fuel and lubricants, leaving Sh48 million for Personal Protective Equipment and paying of allowances to frontline healthcare workers.
Highest amount
Of the Sh92 million spent by the County Government of Busia, Sh15 million was used to pay electricity and water bills and to purchase 10 tonnes of chlorine and other water treatment chemicals. The county also paid for the supply of charcoal to Alupe Isolation Centre at Sh329,400.
In Kericho, Governor Paul Chepkwony's administration spent Sh23 million on awareness and publicity on coronavirus. Allowances to frontline healthcare workers cost Sh5.3 million of the total Sh108 million utilised in the period under review.
Nakuru County was one of the three counties allocated the highest amount at Sh512 million. The county paid Sh21 million to frontline healthcare workers as allowances, used another Sh22 million to purchase PPEs but ended up paying a total of Sh25 million for handbags, reflector jackets, branded umbrellas, awareness and conferences.
While Elgeyo Marakwet County spent Sh240,000 to buy 40 inch TV screens, Mandera bought gumboots at Sh3,750,000, TV Sets and accessories at Sh354,000, gas cooker (four-burner) at Sh260,000 and two gas cylinders -- one at Sh60,000 and another (6kg) at Sh56,000.
Murang'a County spent Sh1 million on landscaping and signage while a paltry Sh336,000 went to allowances for health workers.
The Office of Controller of Budget noted that most county governments spent billions of the Covid-19 funds without budgets.
In the report, prepared on the request of the Senate Ad Hoc Committee on Covid-19, Controller of Budget Margaret Nyakang'o said counties received Sh13.1 billion in the period under review.
"Of these, Sh5 billion from the National Government through the Ministry of Health was to be utilised towards quarantine and isolation expenditure, another Sh2.36 billion for allowances for frontline healthcare workers. Sh350 million that was given by Denmark's development cooperation (Danida) as grant went to support Level Two and Three health facilities in the fight against the pandemic and Sh5.39 billion from counties own source," the report reads in part.
Turkana, Nakuru and Nairobi counties had the highest allocations for Covid-19 related expenditure at Sh859 million, Sh603 million and Sh577 million respectively.
Lamu, Tana River and Taita Taveta had the lowest allocations at Sh38 million, Sh71 million and Sh77 million respectively.
The report revealed that Nakuru, Wajir and Kiambu reported the highest expenditure at Sh311 million, Sh255 million and Sh246 million respectively.
Emergency foodstuff
Seven counties -- Bomet, Embu, Kirinyaga, Lamu, Mandera, Marsabit and Nairobi -- did not report any expenditure towards Covid-19 intervention, while Mombasa had not provided a report on utilisation of the Covid-19 funds by the time the budget controller was filing the report at the Senate.
In Baringo County, a grant of Sh84 million requested through the Office of Controller of Budget and transferred to a special purpose account at the Central Bank of Kenya had not been utilised by July 31.
But the county spent Sh106 million from its own contribution to purchase emergency foodstuff for vulnerable people across all sub-counties, bought PPEs, purchased water tanks and paid allowances to frontline healthcare workers.
Bomet allocated Sh115 million for Covid-19 intervention. This amount was however not withdrawn from the County Revenue Fund account and, therefore, there was no actual expenditure.
In Kakamega, a total of Sh441 million was available for utilisation. The county had spent Sh132 million within the period under review.
Governor Ann Waiguru's administration received Sh165 million into the County Revenue Fund account during the reporting period.
However, the county had not budgeted for the Covid-19 funds in the 2019/20 financial year and ended up committing Sh12.5 million from its own funds for Covid-19 intervention.
Kitui had budgeted for Sh499 million for coronavirus intervention, which comprised Sh368 million from the National Treasury, Sh120 million from World Bank, Sh9.7 million from Danida and Sh300 million from the national government.