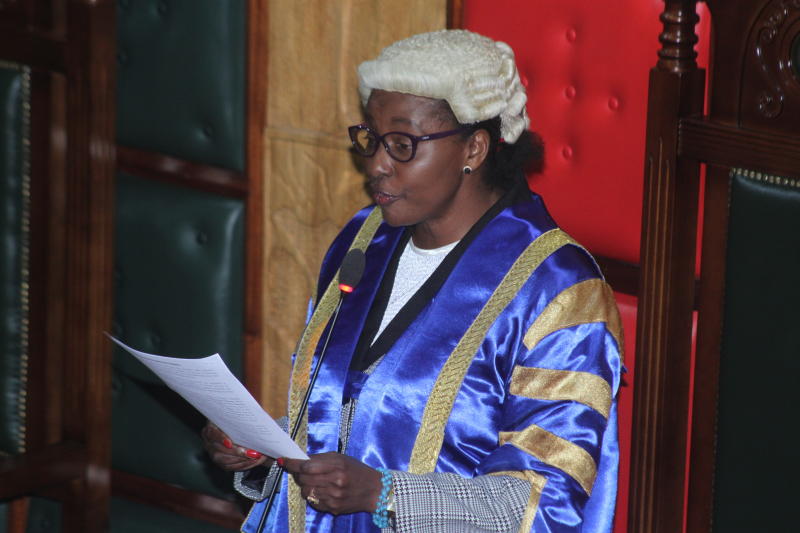 Applicants seeking to fill the Nairobi City County Assembly speaker's position have less than half a day to submit their interest to the County Clerk.
The county declared the position vacant and advertised it in local dailies, a day after Beatrice Elachi resigned te post.
"Section 25 of the Election Act 2011 and Nairobi City County Assembly Standing Orders Notice is hereby given to the general public that the Office of the Speaker of the County Assembly of Nairobi City County fell vacant following the resignation of Beatrice Elachi," read part of the notice.
Acting Nairobi County Assembly Clerk Pauline Sara Akuku urged interested and qualified persons to submit their applications ahead of the Friday, August 14 elections.
"The office of the clerk invites interested persons, who qualify to be elected for the position of the County Assembly to download nomination forms from the Nairobi City County Assembly website," Akuku said.
Each county assembly is expected to have a speaker elected from among persons who are not members of the county assembly in accordance with the Constitution of Kenya.
The applicants have been urged to ensure they fill and sign nomination forms and attach a copy of their curriculum vitae.
"The aforementioned documents should be hand-delivered to the Office of the Clerk of Nairobi City County Assembly, City Hall Building at least 48 hours before the day of the sitting of the Assembly pursuant to Standing Order (6) of the Nairobi City County Assembly Standing Orders," Akuku said.
The elections will be held at City Hall building on August 14.
On Tuesday morning, Elachi announced her resignation citing a charged, poor working environment characterised by chaos, threats and constant fighting. She blamed Nairobi Governor Sonko for the woes bedevilling the city.
The outgoing Speaker addressed her resignation letter to the President instead of the County Assembly clerk.
She also handed over to her deputy John Kamangu as the acting Speaker pending the appointment of a new substantive one within 14 days.
"I leave with my head high because the last time I left my head was down. Of most importance is my political career. I now head where the politics is. I am going back to my Dagoretti North," said Elachi.
Prior to her resignation, Elachi was under siege as MCAs had mooted a fresh plot to impeach her for a second time, alongside her deputy Kamangu.
The first time she was impeached she obtained court orders and held onto her office, although she stayed out of City Hall for a year.
Details have now emerged that a secret meeting held two weeks ago discussed and sealed Elachi's fate.
President Uhuru Kenyatta hosted 41 Jubilee MCAs for the two-hour-long meeting to address the leadership crisis at City Hall and help forge a good working relationship with the Nairobi Metropolitan Services (NMS) to better service delivery for the electorate.
The MCAs reportedly said they could no longer work with Elachi and sought the president's intervention.