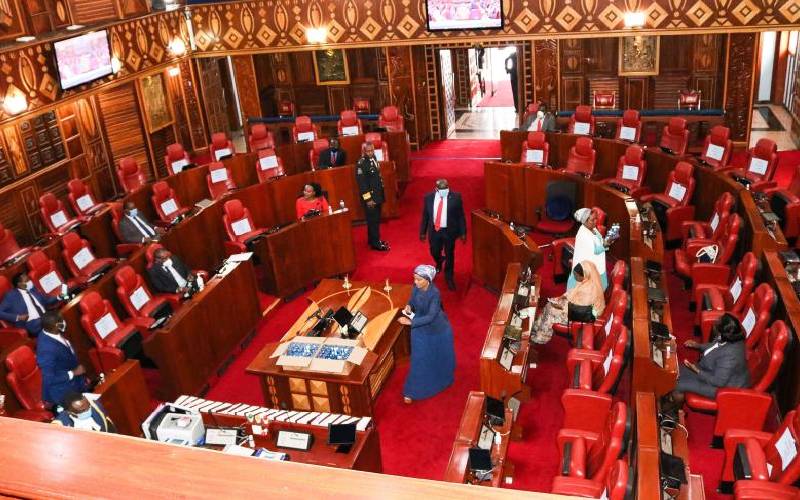 Senators were by last evening under immense pressure to approve the disputed revenue sharing formula that will see 19 counties lose billions of shillings.
Sources indicated that a senior State House official was whipping the legislators to ensure the divisive formula that has been opposed by 25 senators dubbed 'Team Kenya' sails through.
Today's crucial vote will be the eighth attempt by the House to resolve the standoff on the third generation formula proposed by the Commission on Revenue Allocation (CRA) following last week's deferment over claims of bribery and intimidation.
Some senators revealed that they were getting calls from powerful State officers pushing them to pass the formula without any further delay.
Read More
"We will not sleep tonight. These State House mandarins are using underhand dealings to intimidate some of us, with threats of reopening investigation cases against some of us or sacking our relations in State jobs," said one 'Team Kenya' member.
The source added, "Our phones have not stopped ringing. Last week, they lured some of our colleagues with cash to shift their allegiance. We expect serious lobbying tomorrow morning ahead of the afternoon vote."
Elgeyo Marakwet Senator Kipchumba Murkomen had indicated yesterday that they had struck a deal to back changes proposed by Nairobi Senator Johnson Sakaja.
Same allocations
Sakaja's proposal seeks to retain the status quo by having the counties receive the same allocations as they did in the last financial year. Going forward, the Sh316.5 billion figure will be used as the baseline to calculate county allocations.
But Meru Senator Mithika Linturi has sought to reduce the baseline from Sh316.5 billion to between Sh250-Sh270 billion. Both Linturi and Sakaja have been tasked to come up with a harmonised proposal to have a fixed figure ahead of today's vote.
But it appears the House is still headed for another standoff after senators from across the divide indicated there was no such consensus.
Murkomen said they expected the House leadership to facilitate passage of the new proposal.
"We fully support Senator Linturi's further amendment to Senator Sakaja's amendment because it minimises the losses and allows counties to begin gaining something.
"This is the deal unless, of course, we decide to maintain the status quo through Senator Sakaja's amendment. The Senate leadership should now lead us in passing the same via consensus," he said.
But Embu Senator Njeru Ndwiga – who supports President Uhuru Kenyatta's position to back the divisive formula recommended by the Senate Finance Committee chaired by Charles Kibiru (Kirinyaga) – vowed that they would ensure the formula is approved today.
No consensus
"We have not reached a consensus on any deal. We will have to go and vote against all amendments introduced to the report by the committee. The proposals are not helping and the report is the best way forward. There is no other way and those proposals are just a waste of time," said Ndwiga.
Homa Bay Senator Moses Kajwang' also said altering the original proposal was ill advised as there was no public participation in changing some of the parameters.
He warned that, if adopted, the amended version could end up being challenged in court for not having the public's input. He instead called for more time to come up with an agreeable formula, stating that the country was not in any crisis to rush passage of the formula.
"I welcome all efforts to reach a consensus because this matter has dragged on for long. But we must be careful and ask ourselves about the role of public participation.
"There is no emergency. We must not rush it to the detriment of public participation. This is a fundamental issue that must not be rushed," said Kajwang'.
Yesterday, Deputy Majority Leader Fatuma Dulo (Isiolo) said there was no sincerity among the senators over the standoff. She said her county stands to lose Sh898 million against a budget of Sh4.2 billion.
"This will throw us off balance. The issue of implementation of the formula that affects the previous allocation should be pegged on additional allocation to counties. We are getting the same allocation as last year yet you want to slash the allocation for Isiolo and give another county and still talk about equitable share," said Dulo.
She added, "As a delegate from a county that stands to lose, we support the amendment by Senator Sakaja. There are a number of amendments on the floor of the House and we will be waiting for the movers to withdraw."
ODM Nominated Senator Agnes Zani said Linturi's proposal was gaining support among members because it would ensure no county gains at the expense of the other devolved units.
"One of the proposals that is gaining support is to have between Sh250 billion and Sh270 billion divided using the second generation formula then the balance be shared using the CRA formula or Senate Finance Committee proposal," said Zani.
ODM Nominated Senator Rose Nyamunga urged the House to rise above regional interests and push for the interests of the country. "We should now reach a consensus because the standoff is giving the Senate a bad name."