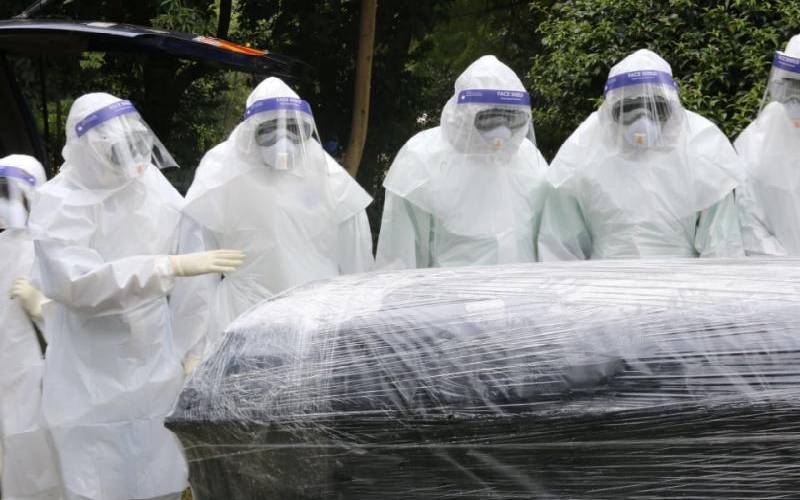 They watch from a distance as their loved one's body is lowered into the grave; they are not allowed to even toss a handful of soil as a sign of goodbye to their kin whose life was taken away by Covid-19.
It is the new normal at funerals in line with the regulations put in place by the government, but in communities that believe in throwing soil into a partner's grave, it has thrown long-held traditions around burials into disarray. And for those left behind, it has meant facing up to unexpected realities.
For instance, Luo Council of Elders Chairman Willis Otondi says before the pandemic struck, it was mandatory for a woman from the community to throw soil into her dead husband's grave as a sign that she had no sexual affairs with other men, or was married before getting into a relationship with him.
Sparked controversy
"Family members should request public health officers to allow them to throw soil into the grave as a symbol the deceased has returned to where he came from. However, if not allowed, they should not worry about any traditions because we must obey the law as required by the government in a bid to prevent Covid-19 from spreading," says Otondi.
Read More
On whether they will be required to perform some rituals after Covid-19 is wiped out, Otondi says once a tradition has been overtaken by events, no woman should be forced to do what has already passed.
In Kamalunga village in Siaya County, James Onyango, who succumbed to Covid-19, was hurriedly buried by government officials and his wife or family denied the chance to give him a decent funeral or toss soil into his grave. It was an incident that sparked controversy and ended up in the corridors of justice.
Oyugi's sister, Joan Ajuang, who eventually sued the Siaya County government for failing to accord her brother a decent burial under Luo culture, told the court that the decision to bury him at 2am has caused her family to be stigmatised.
The court was told the family is being shunned by sections of the community over the manner in which the deceased's remains were interred. Videos of how Oyugi was buried circulated widely on social media and news outlets, causing national uproar.
Rose Achieng, whose husband died a few months ago, says some of the traditions forced on widows or families have no repercussions as perceived by the community but have been used as a tool to shun people.
"We must ensure that those who lose their partners as a result of Covid-19 are not stigmatised for failing to perform some of the traditions that have since been overtaken by civilisation. They must be told the truth to enable them to move on with their lives," she says.
Achieng says when her husband died, she was told to perform some traditions that she found to be strange.
For instance, immediately after burying her husband in Homa Bay County, she was required to go with her eldest son to her parents' home for a night so a goat to be slaughtered. They were to return to her matrimonial home with a piece of the meat.
"I was told to go get a man from a nearby market to cleanse my home, but I declined as a Christian. I also did not have my children shave their hair. The traditions are just used to cause stigma and Covid-19 should not be used to cause misery in families," she says.
She was told calamities such as mysterious deaths or diseases would befall her family due to her failure to perform the traditions.
Limited time
According to Ministry of Health guidelines on handling of human remains infected with Covid-19 that were prepared by Acting Director General of Health Patrick Amoth, disposal of the body must be overseen by a public health official within two days of death to avoid community practices that would result in more infections through contact.
Relatives are strictly forbidden from touching or kissing the body, and the casket must remain closed. However, there is hope for those who have not been able to perform traditional burial rites due to government regulations.
Psychiatrist Lukoye Atwoli says there is need for communities to stop stigma in the fight against the pandemic by not being ignorant, and avoiding prejudice and any discriminatory behaviour.
He says this can be done by ensuring that both national and county governments come up with policies that protect those infected or affected by the virus.
"It is impossible to eliminate stigma completely, but this can be reduced by giving accurate and timely information that would eliminate wrong statements issued especially on social media when one is infected or dies of Covid-19," he adds.
The World Health Organisation (WHO) says in an outbreak, many people are labelled, stereotyped, discriminated against, treated separately or experience loss of status because of a perceived link to a disease.
Wangui Waweru, who was among the first people to test positive for Covid-19 in March, says there is need for people to stop acting on wrong information and instead turn to mainstream media and the government for accurate information regarding the virus.
"Rushing to social media to post unverified information regarding a person or family is very wrong. You need to kneel and pray for those who test positive or lose their loved ones because of the virus instead of igniting stigma against them," she says.