State scales down operations as more staff test positive for virus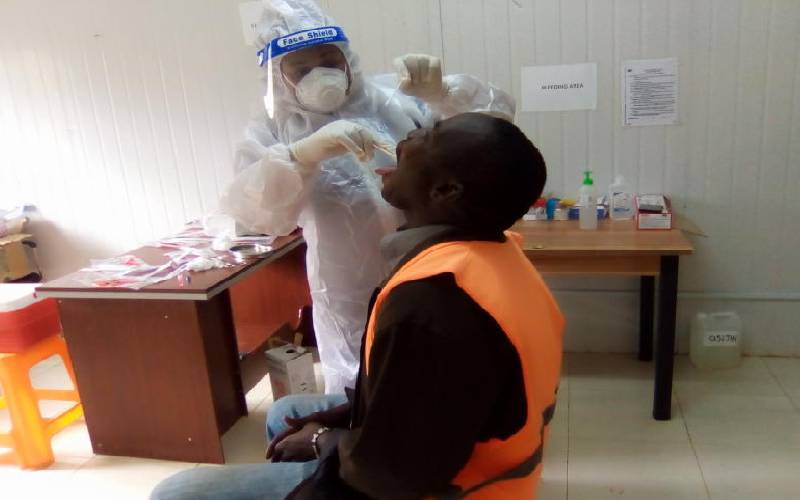 Government offices have been forced to operate with lean staff after several departments recorded cases of Covid-19.
The departments have been forced to reduce the number of employees or temporarily stop operations as the country grapples with surging Covid-19 cases.
A staff at the ICT Ministry in Teleposta Towers, Nairobi, died at his desk last week, laying bare the gravity of the situation.
The official had complained of headache and difficulty in breathing before he succumbed. Days later, more staff tested positive for the disease, prompting closure of the offices for two weeks.
Telecommunications Principal Secretary Esther Koimett said the staff would resume duty on July 27, if the situation improves.
Sources said the government is now focusing on targeted testing of staff in the affected departments to contain spread of the disease.
Treasury, Ministry of ICT and Public Service Commission are among State departments that have since scaled down operations after recording Covid-19 cases. At the National Treasury, 10 of 50 staff tested positive for the disease.
At the Ministry of ICT, apart from one staff who succumbed to the virus at Teleposta Towers, several others tested positive.
Interact electronically
Last week Communications Authority acting Director-General Mercy Wanjau advised customers to interact with them electronically unless it was extremely necessary to visit their offices. This was after two members of staff who were on leave tested positive for the virus.
Ten employees of the Public Service Commission also tested positive for Covid-19 following mass testing on July 1.
The National Assembly suspended committees from July 17 to 28 and staff were directed to work from home, except for those at the clerk's office, to allow fumigation of the Chamber and other rooms while members are on recess.
And there was panic at the Makongeni Police Station in Thika Town on Sunday when 17 suspects tested positive for Covid-19.
Kiambu County Police Commander Ali Nuno said three other suspects tested positive for coronavirus at Thika police station. "The testing was conducted last week after two presented symptoms of coronavirus," he said.
They are part of the 34 people who had been tested and were waiting to be moved to prison. Police noted that 15 convicts and 19 remandees had their samples taken on July 11.
Officers who were handling the suspects were ordered to go into isolation, as they await results of the test.