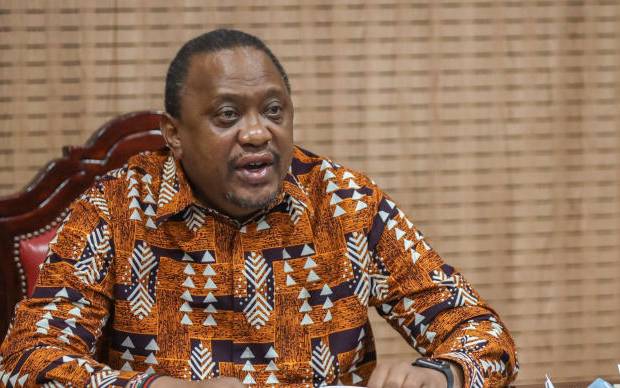 President Uhuru Kenyatta
(pictured above)
on Monday lifted cessation of movement in the country but maintained the 9pm to 4am nationwide curfew Addressing the nation from Harambee House in Nairobi today, the President said Kenya was not out of the danger yet but the path to reopening the economy would be a gradual one. He cited a lack of adequate preparation but said that the country had to start the journey to normalcy regardless of the challenges.
SEE ALSO: High-end clubs lose bid to reopen doors
He said: "We have not yet met the irreducible minimums 100 per cent. However, we have reached a reasonable level of preparedness across our counties…I, therefore, announce a phased reopening of the country..." He lifted the orders on cessation of movement in Nairobi, Mombasa and Mandera counties but warned against laxity in the observance of the safety rules. "Order to reopen is given conditionally if the situation deteriorates, we'll revert to lockdown..," he said. "We must be cognizant of the fact that we are far much more at risk than when the restrictions were in place." During the address, the Head of State said:
Cessation of movement in an out of Nairobi, Mombasa and Mandera that is in place to lapse tomorrow, July 7, 2020
Dusk to dawn curfew extended for a further 30 days
The government shall observe patterns of interaction in the next 21 days. If there will be a spike in the trend of infections, the country will return to lockdown at zero option
Individual behaviour to determine the country's progress to returning to normalcy.
Kenyans should avoid non-essential upcountry travel and encouraged to maintain social distancing, washing hands, sanitising and be cautious when interacting with the elderly and those who are immunosuppressed.
Only 100 worshippers to be allowed in places of worship and the sessions to take only one hour.
Children below 13 years and the elderly not allowed in places of worship.
Madarasas and Sunday schools still prohibited
PSVs moving in and out of areas which were previously under cessation will require mandatory certification from MoH and clearance from the ministry of transport.
Local flights to resume on July 15 in strict conformity with guidelines and protocols issued by MoH
International's travel in and out of the country to resume August 1 in strict conformity to guidelines and protocols issued by MoH
Restrictions on political gatherings and any other gathering of that nature extended by another 30 days
Restrictions on wedding and funeral attendance extended for a further 30 days
Kenyans told to exercise civic responsibility by curbing the spread of intercommunity spread of the virus.
National Crime Research Centres to probe Gender-Based Violence, children rights violation and girl child disempowerment.
SEE ALSO: Pandemic: Why some people don't play by the rules