Sonko: I am a victim of State's witch hunt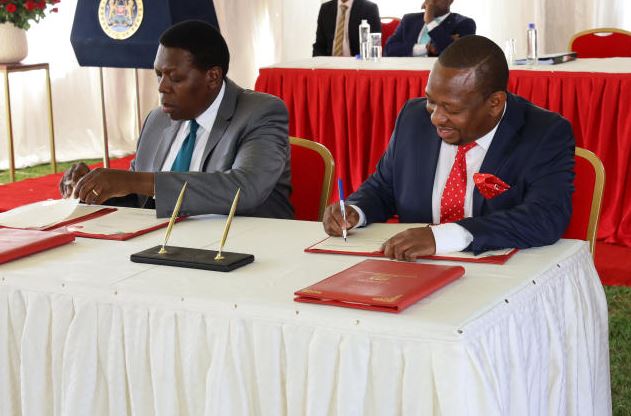 Nairobi Governor Mike Sonko (right) claims to be a victim, being hunted for unknown reasons, in the corruption charges filed against him in court.
In his filings before the court, Sonko claims the Asset Recovery Agency (ARA) is scourging through his accounts to find evidence to beef up a graft case lodged by the State against him before the magistrate's court.
According to his reply filed by lawyer Harrison Kinyanjui, his accounts continue to be illegally frozen although there were no orders or a case before the court which would warrant investigators to ransack his bank accounts.
"I have not seen any evidence or proof of alleged money laundering or proceeds of crime attributable to me as alleged, or at all, adjudged as such by any court of law, or reported by any competent authority as constituting such proceeds of crime or money laundering," he claims.
The ARA must demonstrate to the court that he acquired illicit wealth, he says.
"I believe that it was not open to the ARA to make blanket allegations of 'suspect funds' in my generalised bank accounts while approaching the court for such draconian orders against me," he says.
Sonko was charged on December 9, 2019 and on January 27, 2020 with various offences including conflict of interest and money laundering.
He now says that after ARA came calling, he was not given a chance to counter the allegations before the orders were issued.
Freeze orders
According to the embattled governor, there is no specific amount that has been shown to have been from the county and that claims of money laundering date back before he ousted Evans Kidero for the Nairobi county seat.
Sonko claims freeze orders issued by Justice Luka Kimaru on February 6, 2020 were oppressive, draconian and harsh to him.
The governor claims that while he was attending the criminal case against him on February 18, 2020, an unknown person came to the courtroom, shoved a huge bundle of documents.
His affidavit reads: "Kinyanjui later informed me that after perusing the said document, inside there was a copy of an order dated February 6, 2020, issued by Justice Luka Kimaru indicating the prayers sought by Asset Recovery Agency in the motion constituting the said document had already been summarily granted."
He claims ARA has never summoned, called, or written to him demanding that he should explain any deposit, withdrawal, transfers, or transactions in his accounts.