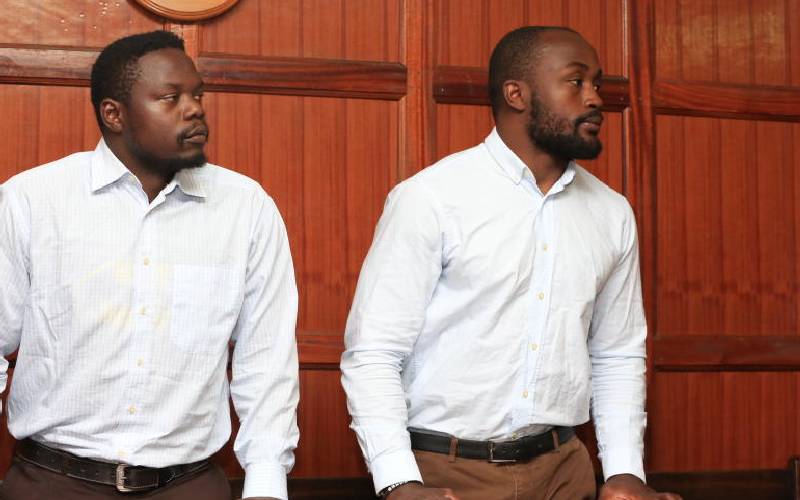 A grave mistake by the prosecution not to swear a witness has given a lifeline to two rugby players jailed 15 years for rape.
Justice Grace Ngenye quashed the conviction against Alex Olaba and Frank Wanyama and ordered for a retrial after finding that one of the witnesses who testified against them leading to the sentence was not sworn.
'Whole truth'
"I find that there is no record of one witness being sworn and although the witness was cross-examined by the accused persons, the court finds that there was a mistrial," ruled Ngenye.
Under the criminal procedure code, a witness appearing in any court case to testify must swear by the Bible or by any other religion they profess to and declare that the evidence they shall give is the whole truth.
Read More
Justice Ngenye ruled that since that did not happen when the witness testified, it constituted a ground for mistrial and a violation of their right to fair trial.
The judge ordered that Olaba and Wanyama be released from prison and taken to Kilimani Police Station where they will be processed and charged afresh on July 7.
Olaba and Wanyama, who are both former Kenya Sevens International rugby players were found guilty of raping a 25-year-old musician in August last year and sentenced to 15 years in jail by senior principal magistrate Martha Mutuku.
The two were both university students when the rape took place during a birthday party at Seefar Apartments in Highrise, Nairobi, in February 2018.
Although the trial was held in camera to avoid revealing the identity of the victim, her report to the police claimed that she was attacked after the birthday party by the two men and that she could not resist the attack because the two were strong.
The musician had claimed that one player lured her to his house after they left the party and that the two raped her in turns as she fell in and out of consciousness.
Sexual escapade
She claimed in her statement that she confronted the two men a few days after the incident when she discovered she was pregnant but they denied the allegations and instead accused her of attempting to extort money from them.
Olaba and Wanyama also denied the rape allegations, saying it was a sexual escapade that was mutually agreed between the three.
In their mitigation after being found guilty, Olaba and Wanyama pleaded with the court for a non-custodial sentence saying they regretted the incident which happened mistakenly since they had not planned to meet the musician during the birthday party.
They added that they were drunk on the fateful day and were not in control of themselves, but the magistrate was uncompromising in handing them the 15-year jail sentence for rape.