Take corona test, Muturi urges MPs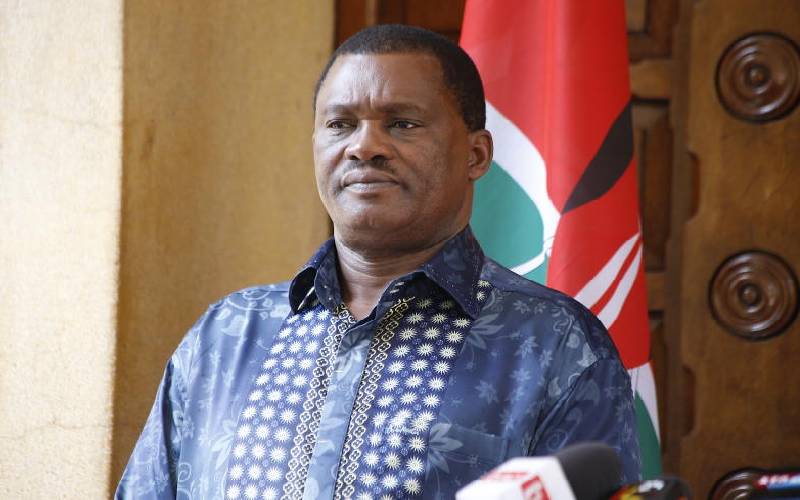 National Assembly Speaker Justin Muturi (pictured) has encouraged legislators and their staff to undergo voluntary testing for Covid-19 currently ongoing in Parliament.
Muturi yesterday dismissed reports that six MPs had tested positive for the coronavirus, saying his office was aware of only two cases.
He especially asked MPs who may have come into contact with a Covid-19 case or suspected case to immediately take the test "as responsible citizens" and notify his office in case they test positive.
"Members are also reminded to encourage their staff, including their drivers and security officers to undertake the tests and more importantly, to wear masks whenever they are in public," said Muturi in a communication made in the House.
He said the Ministry of Health had set camp at Parliament, putting up two testing centres – one at the main Parliament building on the Senate side and the other on the National Assembly side.
"Members of Parliament, just like other citizens are susceptible to the disease. From the daily briefing from the Ministry of Health, it is obvious that the cases are rising and no one is immune when exposed to the virus, not even legislators who also live among the community," said Muturi.
He called against sensationalising of the cases in Parliament, saying they were not any different from those reported in other areas.
He promised to ensure Parliament and its users are safeguarded from the disease through continued collaboration with the Ministry of Health.
The statement from the Speaker came even as members of staff took to social media to encourage others to get tested.
"Covid-19 testing will be conducted by the Ministry of Health from Monday, June 29, to Friday, July 3, 2020 at the main Parliament building from 9am to 4pm daily. You are encouraged to take the test. Kindly share with staff in your directorate or department," reads a message circulated to various social media groups in Parliament.
In the meantime, Muturi encouraged MPs and staff to continue observing measures that have been put in place in the House to combat the spread of the virus, encouraging virtual sittings for committees where applicable.
"Additionally, fumigation, disinfection and sanitisation exercises have continually been carried out, the latest having been carried out last Friday, June 26, at the chambers, committee rooms, all offices and the prayer rooms and the common areas. These measures continue to be upheld during these difficult times," he said.