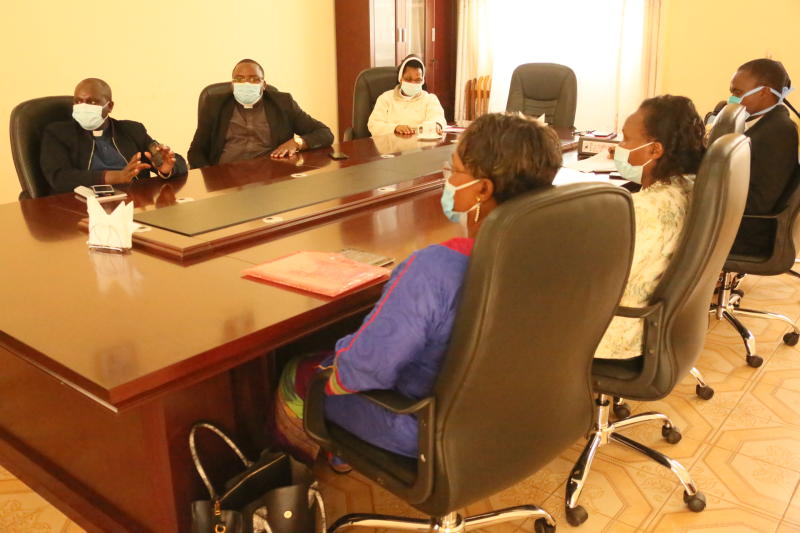 On a cold Tuesday afternoon in Nyeri, a group of three priests, three nuns and two psychologists, all in masks and keeping their social distance, meet at a boardroom at the Nyeri Catholic Secretariat. This is not an ordinary meeting of men and women of cloth and two psychologists. This is a rescue team. They are part of a group of 30 priests and 12 psychologists who cater to the needs of hundreds of people facing mental breakdowns during the ongoing Covid-19 pandemic. The group works in shifts, but is on duty all day, every day. They respond to all manner of calls from people saying they are about to kill themselves because Covid-19 has rendered them jobless, to anxious students currently stuck at home after schools were shut down.
SEE ALSO: What you need to know about Coronavirus right now
Since the Good Shepherd Call Centre was started in April, the team has handled more than 2,000 distress calls to its number, 0800723555. The priests and nuns are the first responders. Serious cases of mental anguish are taken up by the 12 volunteer psychologists in the team. The team meets twice every week to review cases, and while the nature of calls may vary, they all share a common thread: despair. Case 1: For three weeks, Esther Gichuki has not had a good break. One of the priests in the team picked up a case of a young graduate contemplating suicide after being unable to secure employment. The psychologists immediately took up the case. Gichuki has had five counselling sessions with the young graduate so far. But she fears that there are many like him out there.
SEE ALSO: Kenyans paying the price for an aged civil service
"He complains of being pressured by his family, who think that he is not doing enough to secure a job. It is clear from his story that he thought he had reached the end of the road," says Gichuki. By the time the team picked up the case, the young man was already steeped in drugs and alcohol. Case 2: A matatu tout lost his job after his boss grounded the vehicle he worked for, citing tough times caused by the Covid-19 pandemic. He reached out to his parish priest and the case was referred to the call centre. The group must now figure out how to help the man renegotiate his life and explore alternatives to earn a living. "He says things are tough for him and we are at the very initial stages of trying to help him re-establish his life instead of thinking about suicide," says Karen Mwangi, a psychologist.
SEE ALSO: Involve women more in fight against Covid-19
The team quickly organises physical meetings with callers who have suicidal thoughts. "My first client called saying he was about to end his life. That was very scary on the phone and I had to work hard to convince him to change his mind before organising for a one-on-one meeting. We spoke at length and I remember sending him a prayer," says Mwangi. The priests and nuns in the group say distress calls from depressed people have been on the rise since the pandemic set in. These sorts of calls are quickly handed over to counsellors. "Professionally, suicide is an emergency that you cannot postpone addressing. I'm supposed to call the client the moment I get the referral and ensure they are safe," says Gichuki. According to the team, most of the calls on suicide are coming from people residing in urban areas. Those in more rural areas call about domestic violence. Case 3: Father Eliud Kamwaro is a worried priest. As a member of the call centre, he has been receiving disturbing calls since the Covid-19 shutdown and the stay-at-home campaign began. "Cases of fathers, uncles and brothers defiling young girls are on the rise," he says. The call centre's database has a growing list of girls who have sent out distress calls after being defiled at home. "We have been referring such cases to the police through our legal office for further action," says Kamwaro. The call centre was set up by Nyeri Archdiocese Bishop Anthony Muheria to offer psychological and spiritual support. "We have priests in Nyeri, Nanyuki and Nairobi who are the first responders to the distress calls," says the team's co-ordinator, Father Stephen Gitonga.