New law gives Matiang'i phone snooping powers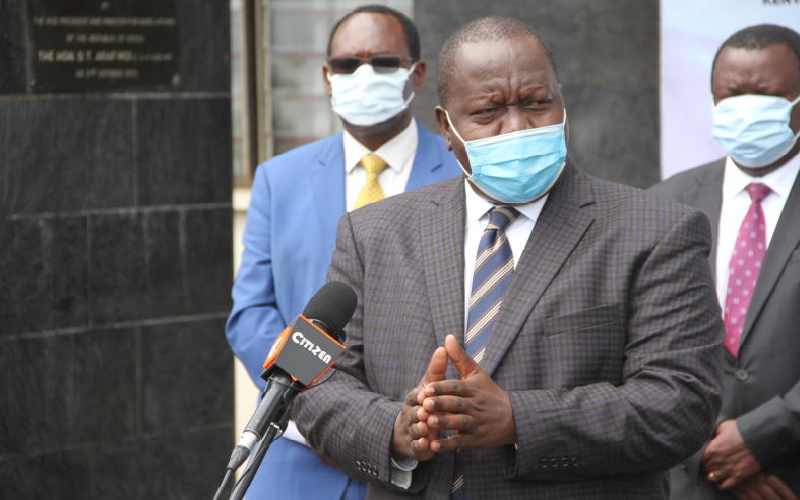 Interior Cabinet Secretary Fred Matiang'i (pictured) may soon access mobile phone data from an individual suspected of being a spy for a foreign power without a court warrant, as the State switches gear in the fight against cyber espionage.
This is just one of the sweeping changes contained in a new omnibus Bill that also proposes to have former Prime Minister Raila Odinga and former Vice President Kalonzo Musyoka receive some of their retirement benefits directly from State House.
The Statute Law (Miscellaneous Amendment) Bill, 2020 also proposes that anyone, irrespective of their responsibility, be prosecuted if they knew about a bribery act but failed to report.
The Bill makes changes to at least 30 statutes. It was published by the outgoing Leader of Majority Aden Duale on June 3.
Amendment to the Official Secrets Act seeks to allow the Cabinet secretary in charge of Interior Security to issue a warrant, in his own hand, requiring a person suspected of being spy of a foreign power to provide them with data, including text messages, voice calls, emails, photos and videos contained in their phone, computer or tablet.
Also to be provided by the suspect are original transcripts and documents related to the data.
"Any person who fails to comply with a request made under Subsection (1) shall be guilty of an offence and liable to imprisonment for a term not exceeding one year," reads part of the law contained in the Statute Law (Miscellaneous Amendment) Bill, 2020.
Take a quick survey and help us improve our website!
Take a survey
Civil society organisations operating in Kenya have several times been accused by State operatives of working for foreign powers, particularly the West, to alter the political course of the country.
Duale said under the memorandum and objects of reason, the Bill, besides harmonising the Official Secrets Act with advances in technology, also proposes to amend the Official Secrets Act to harmonise its provisions with the structure of courts and other State offices established by the Constitution.
Proposed changes also seek to give the Office of the President powers to administer some retirement benefits for retired Deputy President, Vice President and Prime Minister.
The benefits include cars, medical insurance for the retired State officers and their family, and fuel allowance.
An amendment of the Retirement Benefits (Deputy President and Designated State Officers) Act will see administration of car benefits, medical insurance and fuel allowance for these retired State officers moved from National Treasury to the State House.
"However, the administration of pension, lump sum payment upon retirement, and gratuity provided for in the Act shall not be affected by this amendment, and will continue being administered by the relevant office in the National Treasury," said Duale.
State and public officers accused of corruption could also get their jobs back if the cases continue beyond two years.
The amendment wants every corruption case to be completed within two years, after which the accused can apply to the court for their suspension from work to be lifted.
Temporarily restricted
It also makes it explicit that the Anti-Corruption Commission can apply to court for an order for a State Officer under investigation or charged with corruption or economic crimes to be temporarily restricted from specific access to their office for a period not exceeding 90 days.
A ruling by Lady Justice Mumbi Ngugi, which locked Kiambu Governor Ferdinand Waititu from his office on July 24, last year, had already set the stage for the new legislation.
A State officer suspended on corruption-related charges will receive half pay as long as it is within two years.