Court saves two officers from the hangman's noose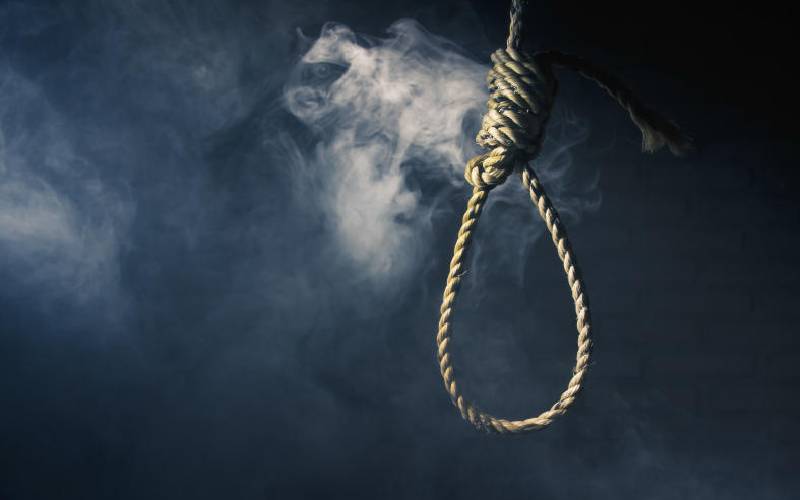 A death sentence slapped on two police officers for killing their colleague attached to an MP's home in Nairobi has been quashed by the Court of Appeal.
Instead, Benjamin Kahindi and Stanley Okoiti are to serve 10 years in jail based on the fact that they are family men and had clean records of service with no disciplinary records at the police force.
Court of Appeal said the jail term is to commence from November 1, 2018 when High Court judge Stella Mutuku convicted them.
Reducing the sentence, Justices William Ouko and Agnes Murgor also said the two were first offenders and had served in the force between 20 and 30 years. But their colleague Judge Fatuma Sichale, who was of a different opinion, declined to sign the judgement delivered on Friday.
"The judgement is delivered in accordance with Rule 32(2) of this court's rules, Sichale, JA, being of a different opinion having declined to sign it," reads part of the ruling.
The rule provides that in criminal applications (other than applications heard by a single judge) and criminal appeals, one judgement shall be given as the judgement of the court. This may be given if one judge has died, ceased to hold office, or is unable to perform the functions of his office because of infirmity of mind or body, or refuses to sign the judgement, but the presiding judge may direct that separate judgements be given.
Ouko and Murgor reduced the sentence but dismissed the appeal on conviction on the grounds that the prosecution established beyond any reasonable doubt that Administration Police Constable Joseph Onchuru and his two relatives - Geoffrey Nyabuto and Amos Makori did not deserve the manner in which they were killed on October 7, 2014 at M-Club in Kangemi, Nairobi.
At the time of his death, Onchuru was attached to the then Bomachoge Borabu MP, the late Joel Onyancha's residence in Loresho.
Onchuru picked his two relatives after work on the fateful evening and proceeded to the club where he opted to sit outside without a drink while the two remained inside.
The officer then took to the dancing floor with one female bar attendant and she noticed that he was armed, a move that saw her alert the watchman at the club.
When asked to identify himself, Onchuru is said to have shown the watchman the pistol and a confrontation ensued, forcing his two relatives to join the fray.
In the process, the watchman overpowered the three and locked Onchuru inside a kitchen at the club while a supervisor called the police.
"It would, however, appear that the information relayed by the police control room in Nairobi Area through police radio was that there was an ongoing robbery at the club," reads part of the judgement.
Armed with AK 47 rifles each, Kahindi and Okoiti responded and they ended up killing Onchuru and his relatives.