Court finds MP Waluke guilty of Sh297m fraud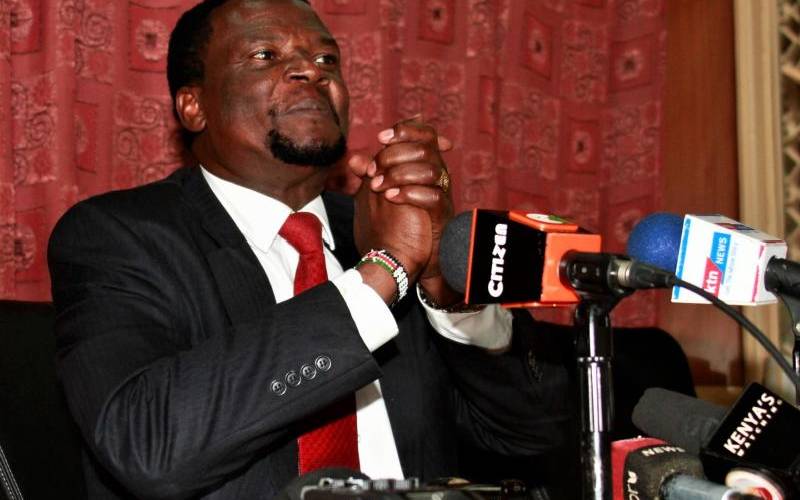 Sirisia MP John Waluke (pictured) risks losing his seat after the court yesterday found him guilty of fraud involving Sh297 million in a maize deal with the National Cereals and Produce Board (NCPB).
Waluke was remanded in police custody pending sentencing after he was convicted today by Milimani anti-corruption court magistrate Elizabeth Juma.
Grace Wakhungu, who was a co-director with Waluke at Erad Supplies and General Contractors - the firm involved in the deal – was also indicted alongside the legislator.
The magistrate found that the Director of Public Prosecutions (DPP) had demonstrated the duo had illegally obtained taxpayers' cash through the cereals board.
The court heard that Waluke and Wakhungu made the contested invoice in support of costs allegedly incurred from storing 40,000 tonnes of maize.
The two will be sentenced on Thursday. If Waluke is handed a jail term that is longer than six months, he will automatically lose his seat and no longer be eligible to vie for any leadership position.
"The court finds there was fraud and the accused acquired money by false pretences. The accused persons will be remanded at Kileleshwa Police Station pending their sentencing on June 25," the court ruled.
The court, however, dismissed a claim that Waluke and Wakhungu altered false documents.
In the case, the State alleged that as a director of Erad Supplies and General Contractors Waluke made a false invoice worth Sh114,600,000 as evidence to support a maize storage claim by Chelsea Freights.
The charges read that: "On or about March 19, 2013 in Nairobi City County, being the director of Erad Supplies and General Contractors, together with Erad Supplies and General Contractors jointly and fraudulently acquired Sh297,386,505 purporting to be the costs of storage of 40,000 tonnes of white maize, guilty or not guilty?"