World outrage over Floyd's death grows as Trump's US burns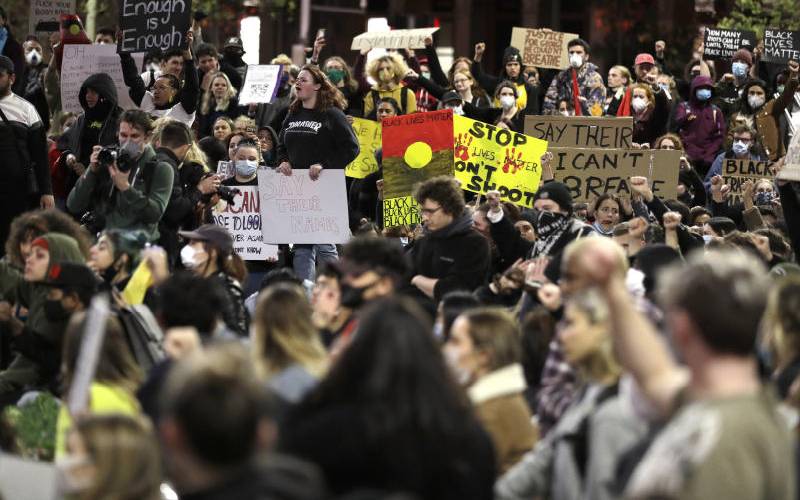 The world is showing solidarity with the black community in the US by holding protests to highlight injustices meted out against African-Americans. Africa too, has stood by the long marginalised minority community following the death of George Floyd, an unarmed black citizen in the hands of a white police officer in Minneapolis.
For decades now, black communities across the US have persistently been targeted by law enforcers, with unfair arrests, shootings and deaths, with the news making it to the media with increased frequency. This is despite efforts to tear down the racial barriers that exist between an elite white population and a growing population of blacks, Hispanics and Asians.
Nairobi, like many other cities of the world, too held a protest march to the American Embassy in solidarity with the ongoing protests in the US. A group of demonstrators yesterday marched and brief sit-in outside the embassy in Nairobi.
"This is a call to action for an end to police brutality, white supremacy and its impact on black people in the United States and Kenya," the protesters said.
The march that started at 8am was just a fragment of the global outrage that has greeted the death of Floyd.
Presidents, both current and former, lent their voices to the cry for social change. On Monday, Ghana's president Nana Addo Dankwa lent his voice to the Justice4Floyd by tweeting his message of support.
"We stand with our kin in America in these difficult and trying times, and we hope that the unfortunate, tragic death of George Floyd will inspire a lasting change in how America confronts head on the problems of hate and racism," he said.
He added: "It cannot be right that in the 21st century, the United States, this great bastion of democracy, continues to grapple with the problem of systematic racism. Black people the world over are shocked and distraught by the killing of the unarmed black man."
As the world continues its condemnation of systematic racism, President Donald Trump has threatened to send in the military to quell growing civil unrest that has rocked his country over Floyd's death on Monday last week.
He said if cities and states failed to control the protests and "defend their residents", he would deploy the army and "quickly solve the problem for them".
Protests over the death of Floyd have escalated over the past week. On Tuesday, the Las Vegas sheriff said an officer died in a shooting after police attempted to disperse a crowd.
Dozens of people have been injured as authorities used tear gas and force to disperse protests which have swept more than 75 cities.
Four officers, meanwhile, were shot and injured on Monday night during unrest in another city, St Louis, Missouri.
The protests began after a video showed Mr Floyd, 46, being arrested in Minneapolis on May 25. Moments later, a white police officer is seen kneeling on the neck of a handcuffed Floyd until he lost consciousness. His pleas that he could not breathe fell on deaf ears.
The officer, Derek Chauvin, has been charged with third-degree murder and will appear in court next week. Three other police officers have been fired.
The Floyd case has reignited deep-seated anger over police killings of black Americans and racism. It follows the high-profile cases of Michael Brown in Ferguson, Missouri, Eric Garner in New York and others that have driven the Black Lives Matter movement.
For many, the outrage has also reflected years of frustrations over socio-economic inequality and discrimination in a country that has continuously referred to itself as the home of true democracy and freedom.
The president delivered a brief address from the White House Rose Garden, amid the sound of a nearby protest being dispersed. Trump said "all Americans were rightly sickened and revolted by the brutal death of George Floyd" but said his memory must not be "drowned out by an angry mob".
He described the scenes of looting and violence in the capital on Sunday as "a total disgrace" before pledging to bolster the city's defences.
"I'm dispatching thousands and thousands of heavily armed soldiers, military personnel and law enforcement officers to stop the rioting, looting, vandalism, assaults and the wanton destruction of property," he said.
The threats have however done little to quell the waves of protest rocking the country. "The people giving voice to their anger are individual pieces of a movement, like drops of water to a wave. Their strength is in cohesiveness. Yet they are strangers, divided by geography, age, colour and experience," the New York Times reported.
Maybe at another time, in another year, Floyd's death would have ended in a vigil, a few local marches and promises of reform.
But this time, it seems America was not prepared to accept the usual responses to his death, at this time. Not in the middle of a pandemic that has taken more than 100,000 lives, many of them black. Not in a country where unemployment, which has also hit African-Americans with disproportionate effect, is at its highest point in a century.
Fear. Anxiety. Anger. Desperation. These are the moods of the moment. They have driven people to the streets, bound into a movement, draped in hopelessness.
The most disturbing thing however, is that Floyd's death was not the first. The general consensus is that it is a long way from being the last. But on the day the video went viral, populations that have felt oppressed for centuries couldn't just take it anymore.
And as President Trump attempts to flex more muscle to scare protesters back into their houses to obey quarantine and social distancing rules, he is getting even more alienated and increasingly, he is sounding like a man alone.
Opposing voices are getting louder in his own backyard. "Everything he has said and done is to inflame violence. We need moral leadership, and he's done everything to divide us," the Right Rev. Mariann Budde, the Episcopal bishop of Washington told the Washington Post.
A military deployment by Trump to states would mark a stunning federal intervention rarely seen in modern American history. It drew comparisons to 1968, when Richard Nixon ran as the law-and-order candidate in the aftermath of riots following the assassination of the Rev Martin Luther King Jr.
Trump made little effort to address the grievances of black Americans and others outraged by Floyd's death and the scourge of police brutality, undermining what his re-election campaign had hoped would be increased appeal to African-American voters.
Dispatch military
Federal law allows presidents to dispatch the military into states to suppress an insurrection or if a state is defying federal law, legal experts said. But officials in New York and other states asserted that the president does not have a unilateral right to send in troops against the will of local governments.
The unrest in Minneapolis, where Floyd was killed, appeared to stabilise on the same day Floyd's brother made an impassioned plea for peace at the spot where he died.
The death toll from the unrest rose to nine, including two people killed in a Chicago suburb. The police chief in Louisville, Kentucky, was fired after a beloved restaurant owner was killed by police and National Guard members enforcing a curfew.
Over 5,600 people have been arrested over the past week for such offenses as stealing, blocking highways and breaking curfew.
Now the world looks on, as major cities of the US continue to descend into chaos as the president remains hardnosed. And there were no signs of letup as protesters demanded justice for Floyd who they feel should have been charged in court if he committed any offence.
However, some state governors have rejected the idea of deploying the military to streets.