Choirmaster Owen Gumba hits his last note after long illness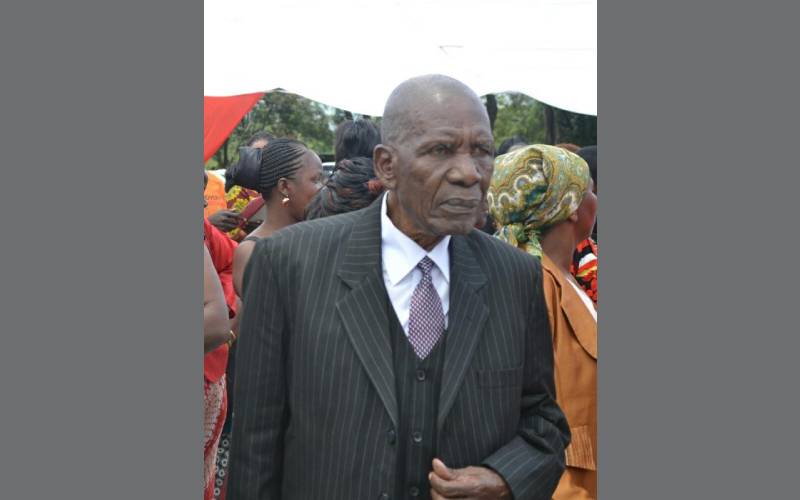 The music fraternity is mourning the demise of an award-winning choirmaster and veteran teacher, Mzee Benjamin Owen Gumba (pictured).
Gumba was a former choirmaster at St Barnabas ACK Church, Otiende Estate in Nairobi. He made the choir a household name in the 1970s and early 1980s.
The 94-year-old veteran choirmaster was best known for teaching the set pieces that won the choir many awards at the Kenya Anglican Youth Organisation (Kayo) as well as in the National Music Festivals.
Mzee Gumba passed on last Saturday after a long illness and was buried on Monday at his home in Seme, Kisumu County.
One of his mentees who later succeeded him, Architect Walter Ominde, had fond memories of him: "In 1979, Owen taught the choir two set pieces for Kayo: Oh, Hosanna Blessed is He that comes, and a Kiswahili song entitled, Ni Mfalme wa Mapenzi (He is The Lord of Love)."
According to Ominde, the 1979 competition at All Saints Cathedral, Nairobi, was a turning point for St Barnabas Choir because Gumba presented the set pieces.
St Barnabas Choir had presented the classic hymn, Hallelujah Chorus from Handle's Messiah, which was an instant hit then and has since not been outdone, according to Ominde.
Hallelujah Chorus is an English-language oratorio composed in 1741 by George Frideric Handel.
"The performance of St Barnabas Choir shocked Darius Mbela, who was the choir master of the award-winning St Stephen's Choir, on Jogoo Road by then, and the adjudicator, Kenneth Stovold, who was the Archdeacon at Diocese of Maseno North, which covered the famous Maseno School," adds Ominde.
In a burst of joy and celebration, St Barnabas Choir was declared the winner, but had to share and enjoy the limelight with its perennial rival, St Stephens Choir, when the adjudicator announced that they had tied in music and drama categories, for the first time.
"We decided to maintain our standard of music henceforth," noted Ominde.
As a veteran teacher, Gumba was a hard worker and a disciplinarian who left a big mark in the institutions he served in. He was an alumnus of Maseno School, in Kisumu County, Kagumo Teachers College in Nyeri County, Makerere University in Uganda and then Leeds and later Reading universities, both in the United Kingdom (UK).
The former choirmaster had an illustrious and distinguished career as a teacher, with a bias for music, spanning over 33 years starting in 1952 at Nyan'gori Mission Station, which was both a college and a secondary school, then to Butere Teachers College, both in Kakamega County, before he was promoted to be the Kakamega District School's Inspector.
In 1969, after graduating from Reading University and returning home, Gumba was appointed Principal of the CPK Language School, in Nairobi, by the Church of the Province of Kenya (which was later renamed Anglican Church of Kenya), where he served until he retired in 1985.
From then on, he went into church ministry and served as a lay leader to a Canon in Maseno South ACK Dioceses in Kisumu County, until he breathed his last at the age of 94.
It was while serving as a principal that he also pursued his passion of teaching music at St Barnabas.
He trained several choirmasters like Ominde, Risper Oduor, Dorringtone Omondi, Meshack Ogutu, Bunde Omondi, Prof Caleb Okumu, among others.
"From a teacher/trainer of classical music to a team leader of the East African Revival Fellowship. Fare thee well man after God's heart," said Bunde in his tribute.
Among his former students is Susan Kariuki, who is one of the longest serving choir members who describes him as "one of the best professional choir masters who taught us music with ease, patience and understanding. All that he did for free, he never asked for payment, except for fuel, which at times he never got".
Another former student is Juma Odemba, who later formed the famous Kayamba Africa, which is a household name and has over the years won many local and international music awards.
"I owe my success to Mwalimu Gumba and Walter Ominde. I was later influenced by Boniface Mghanga. The fondest memory I have of Mwalimu Gumba was the fact that he was the one who taught us the English set-piece for choir competitions and he would be the one to prepare us all the way to the national competitions. He was a stickler for time and led us on our first international tour in 1983," recalled Odemba.