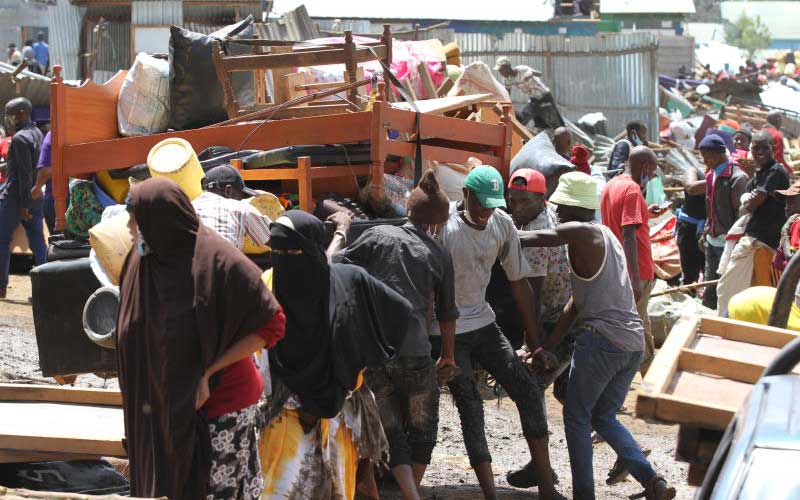 UN officials have asked the government to halt all evictions during the Covid-19 crisis and protect human rights activists who are under threat for defending evictees.
The new UN special rapporteurs on the right to housing, Balakrishnan Rajagopal, and on the situation of human rights defenders, Mary Lawlor, made the call on the backdrop of recent evictions in Kariobangi and Ruai in Nairobi, and the harassment of a housing rights defender threatened with 'disappearance'.
"Not only does destroying the homes of thousands of persons without any alternative accommodation constitute a grave violation of their right to housing, but doing so in the current context of a pandemic violates multiple human rights norms and exacerbates its potential impact on the rights to health and life for thousands of Kenyans," they said.
The special rapporteurs are also concerned about reports of new evictions conducted in the past few days despite the government's announcement that it would establish a moratorium banning them during the Covid-19 crisis.
Read More
Urgent assistance
More than 8,000 people were forcibly removed from their houses in Kariobangi and had their homes flattened on May 4 despite a court order issued a day before restraining authorities from conducting the evictions.
The government reportedly notified them verbally 24 hours to 48 hours in advance, and had not taken any measures to provide them with food, temporary shelter, access to water and sanitation or any type of compensation. Thousands of people are currently homeless and in need of urgent assistance.
On May 15, more than 1,500 people were forced out of their homes in Ruai at night, during curfew hours and in heavy rains. Affected families were not provided with shelter and have been sleeping out in the cold.
"The Kenyan authorities have the obligation to stop any further contemplated evictions, urgently provide assistance to the evictees, guarantee their rights to shelter, food, water and sanitation," the UN experts said. "They must also put in place a plan, with the full participation of the evictees, to find a long-term solution to their housing needs."
Rights defender Ruth Mumbi gathered and published testimonies of the victims of the Kariobangi evictions, encouraging human rights organisations and journalists to document the impact of the evictions. She also raised funds to help the evicted families.