Lock us down but give us food, residents tell State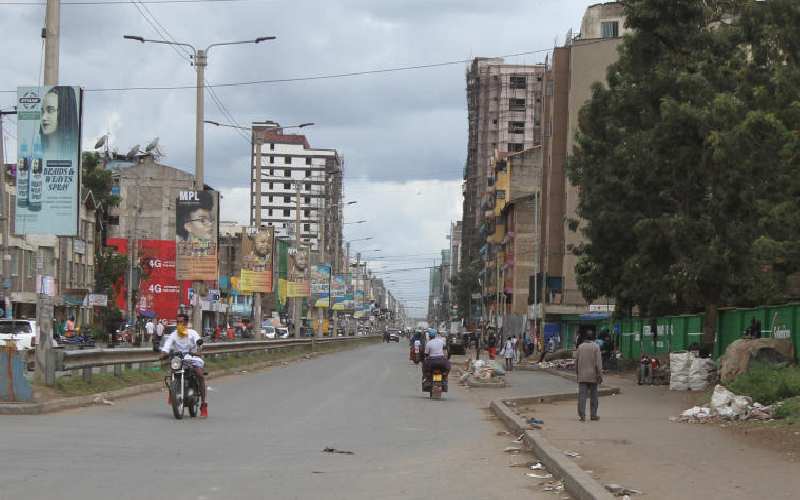 For the 28,000 residents of Mombasa's Old Town who are accustomed to freedom and unfettered movement, the current lockdown has brought mental and physical strain, creating a virtual prison.
Unlike Eastleigh in Nairobi, which was placed under lockdown the same day, Old Town is an ancient town built over 1,000 years ago and whose residents hold sentimental attachment to its equally ancient houses.
"I have been locked in my house for close to two weeks, afraid to move out for fear of meeting police or encountering youth opposed to the curfew," a female resident who asked not to be named told The Standard.
Congestion and lack of water are a problem due to rising population on the 75 square kilometre sliver of territory. The area has dwindling sources of fresh water and relies on water sold by vendors from outside.
"Most residents live in houses they have owned for centuries. They don't pay rent but in recent years many of the houses are in a bad state," says Alwy, a resident.
He says many residents are experiencing stress since they aren't used to that kind of life. "You can hardly move two blocks from your house. We are used to roaming the neighbourhood, visiting friends and relatives but now you cannot even pray in a mosque or swim in the ocean."
Mohamed, another resident, said on phone: "Before the lockdown we used to go out of Old Town to breath fresh air in the other parts of town but now you cannot venture out without risking arrest."
He says the sense of anxiety is compounded by reports that there could be more cases of coronavirus in ther habitat.
Also known as Mji wa Kale, the small habitat has been named a World Heritage site by the United Nations Educational, Scientific and Cultural Organisation (Unesco).
There is hardly space for a playground and it is common to see boys playing soccer in the narrow streets as elderly men huddle together catching up over dumna, an ancient board game common in the coastal region.
Traditionally, women stay indoors tending to their families, but also fry and sell chips, potatoes, tea and other foods by the roadside.
But some streets of Old Town are also famed for their elegant jewellery shops selling silver and gold ornaments. It must be understood that Old Town also includes Kenya's first port.
It also contains spice markets and Mackinnon Market, which host large-scale chicken, fish and other meats market.
Unbeknownst to many Kenyans, Old Town has a section of the rich, living in high end flats and properties overlooking Makupa Creek. On normal days boys would while away time swimming in the creek.
Many young men and women have been forced to travel to the Middle East to look for greener pastures. Whatever they send back home is what the whole family relies on.
"Most people here are very conservative," says Alwy, who notes that many youth in Old Town do not attend high school partly because there is no pressure to work hard and excel.
Poverty is not as deep as commonly depicted in activists' reports, and disdain for physical work and modern schooling is widespread. Little wonder then that in recent decades, Islamic militancy and drug addiction have thrived in this area where suspicion of the State and non-residents runs high.
Depending on who you ask, the shutdown is a punishment but also a windfall: punishment for the youth whose free movement has been curtailed and the religious conservatives who cannot worship in mosques, but a windfall for hundreds who are glad to receive food rations and water from the government and non-State actors during the lockdown.
"We aren't used to being confined in our houses which is a shock to many, but things aren't as bad as people want to suggest out there," says Aysha, a resident.
Most businesses especially those dealing in clothing and foodstuffs have been shut down as residents have now gotten used to donations being distributed through the Kenya Red Cross Society and Haki Africa.
While some residents are happy with what the government is providing, there are others who won't let the lockdown interfere with their jobs. There are claims of residents bribing the police to be allowed to move out of the town where they work or own businesses.
A walk through the narrow alleys of the conservative town feels different as there is no congestion as before. Most business premises are locked and a few residents can be seen trying to catch up with the outside world from their balconies.
Operations at the port are at a minimal. Loaders have been denied access in and out of the port.
Hussein Khalid, Haki Africa executive director who has been involved in the humanitarian support, said lifestyles for many residents have been turned upside down after their businesses closed down.
"Many people have lost their sources of income because they depended on commodities from outside Old Town. They have been confined to their houses and heavily rely on handouts," he said.
According to Mr Khalid, Haki Africa and other partners have had to appeal for access to some food and water vendors and even for garbage collectors to make the area habitable.
"In the last three days, even garbage collection had become a major challenge as the handcart operators who usually remove it from the area were locked out. We also had to appeal for residents to be provided with water because those who sell water in the town get it from neighbouring areas," he noted.
Muslims for Human Rights (Muhuri) chairman Khalef Khalifa protested the manner in which the lockdown was implemented, saying it was inhumane as food distribution and water supply were not planned before it came into force.
"People have been complaining a lot because they can hardly meet their daily needs. Some of the issues were not considered before the government announced the lockdown. We feel like the government is punishing innocent people as much as it is in the best interest to prevent the spread of the virus," he said.
Khalifa, also a resident, demanded that the national government devolves funds meant for the Covid-19 fight, adding that there has been no accountability so far on how the money is being spent.
He claimed that Tononoka grounds open air market currently poses more threat than Old Town because it is operating as usual.