Uhuru: Stop social media nonsense!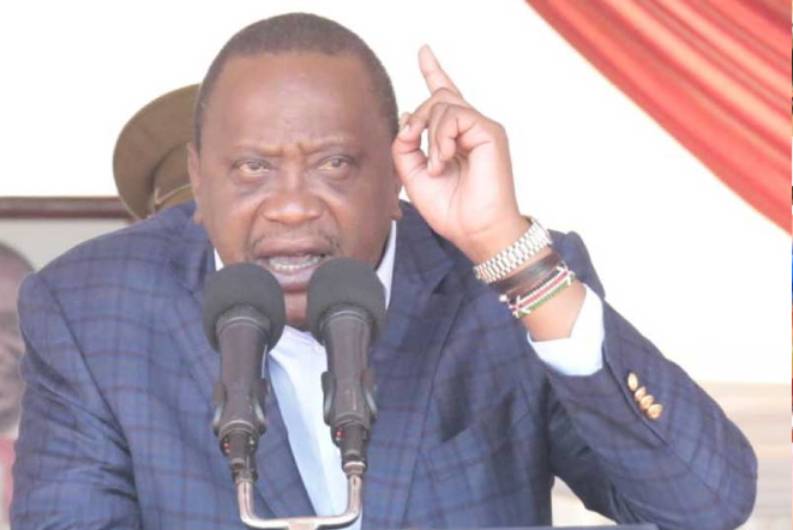 President Uhuru Kenyatta has told off critics who are opposed to his kind gesture of sending flowers to the United Kingdom.

The President who looked visibly angry, said those opposed to his move were only being petty and shortsighted, adding that the country ought to look ahead.

"I was amazed when some people said I made a mistake by sending those flowers abroad. Those flowers employ thousands of Kenyans. People are remembered during calamities. Sending those flowers will make them remember us when the market will open again. They will come back and buy from us because we remembered them at their lowest," said President Kenyatta.

The President also urged Kenyans to remain hopeful and optimistic in the fight against Covid-19 pandemic that has continued to ravage the whole world.

"Coronavirus will not be with us forever. We want to retain our markets after this pandemic… Think before you post nonsense on social media. We must protect our economy, we must look into the future, and we must look at what we are going to do after we survive…This is not the time to be petty, or cheap. It is time to come together and plan the future of this great land, "added President Uhuru.

This comes barely a week after the government sent 300 bouquets of flowers to England. The government says it was a sign of empathy and solidarity amidst the coronavirus pandemic.

The consignment was flown by the national carrier Kenya Airways and was received by Flamingo Limited in London, UK.

"Our member, the Kenya Flower Council, has done this to show empathy and this sends a strong message of partnership at a time when many countries are facing difficulty. It is part of our campaign dubbed 'Flowers of Hope' informed by the realities brought forth by how the Covid-19 pandemic is impacting world economies," said KEPSA Chief Executive Officer Carol Karuga.

The decision came from a committee set up by President Uhuru Kenyatta and chaired by Interior Cabinet Secretary Dr Fred Matiang'i.

Members of the committee consists of the Kenya Private Sector Alliance, Kenya Association of Manufacturers, Kenya Airways and the Kenya Flower Council. KEPSA members including Elgon Kenya Limited, Flamingo Flowers Limited and others are also in the committee.
This comes as the coronavirus cases in the UK continue to soar every day. Currently, more than 171,000 positive cases have been reported with more than 26,000 deaths. Hospital admissions for coronavirus in UK have reportedly increased by almost 50 per cent in some parts of the country.

The Kenyan government says flowers are therapeutic and a sign of camaraderie in difficult moments.

"Now more than ever we should remain united and resilient. Flowers are therapeutic and are a great way of expressing our appreciation to the gallant men and women working round the clock to take care of the sick.

With this campaign we want to send a message of hope and solidarity to Kenya and the global community even as we work to ensure our brothers and sisters in the flower industry do not lose their jobs during these trying times and our highly acclaimed flower sector remains afloat," said Bimal Kantaria the Managing Director of Elgon Kenya.

UK is one of Kenya's biggest flower markets, generating over Sh100 billion annually. Most of this coming during the valentines' period, when lovers exchange flowers as a sign of love.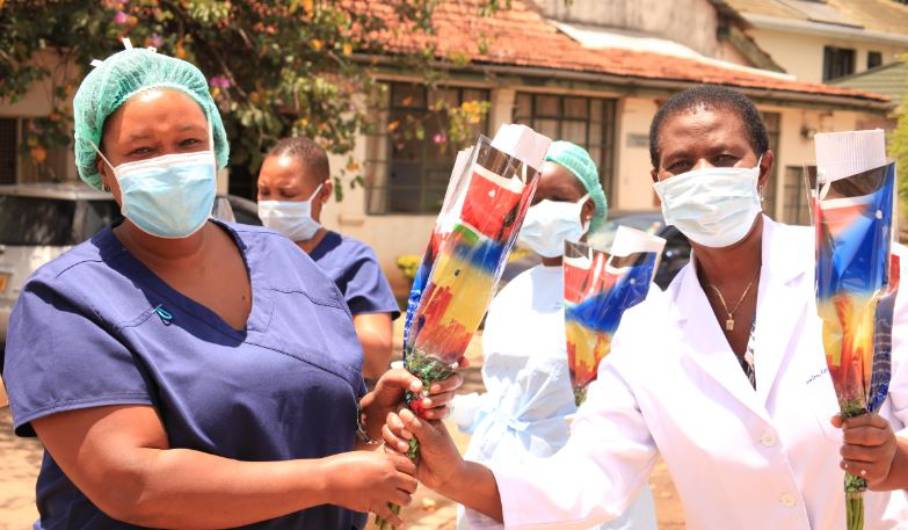 Other European countries which are Kenya's biggest markets include the Netherlands, Italy, Germany and Britain.
However, the overseas demand for fresh-cut flowers has plummeted since the coronavirus outbreak.

This is because planes which take the flowers abroad were grounded, due to the Covid-19 pandemic, rendering thousands of Kenyans jobless. Many are now at the brink of falling into poverty and hopelessness.

Floriculture is a key economic pillar for Africa's top flower exporters, Kenya and Ethiopia. Already, around 10,000 casual workers have been laid off, and about 50 per cent of permanent workers given compulsory annual leave.

President Uhuru was speaking during this year's Labour Day celebrations which were marked differently due to the coronavirus crisis.

President Uhuru also said over 500,000 people would risk losing their jobs if Kenyans continue to operate normally, making the situation even dire.

"We cannot relax in our efforts to conquer this invisible enemy and to put our economy on a strong growth path. Because, if we do not, we could lose upwards of half a million jobs over the next 6 months. We must do whatever it takes to minimize, if not to fully contain such loss in jobs," he added.

The government also reiterated its efforts to cushion Kenyans against the economic effects of the coronavirus by launching projects aimed at creating employment to Kenyans.

"This is why my Administration has rolled out some FISCAL and MONETARY policy measures to cushion the looming situation. I have already announced the accelerated disbursement to the elderly and the indigent, coming from the Social Safety Net Fund.

I have also announced the direct weekly cash stipends to thousands of vulnerable households in informal settlements and fragile rural areas.

And last week, I announced the 'Kazi Mtaani' initiative, which will give unemployed young people the opportunity to earn a daily wage as they build our motherland Kenya, " he explained

The President also reiterated the government's commitment to help Kenyan workers get through the Covid-19 period.
The government now calls on Kenyans to remain alert and keep their eye on the ball in combatting the coronavirus pandemic.

This comes as the country recorded 15 more cases today, pushing the national tally to 411 cases. 21 deaths have been recorded in the country.

Globally, 3.3 million people have been infected by the deadly virus, while 235,000 people have succumbed to the virus.