Kenyans mark a slow Labour Day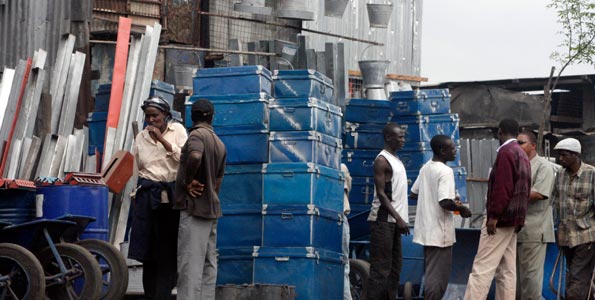 Usually at around 9am Kenyan workers would be making their way to Uhuru park grounds to mark and celebrate Labour Day.
The 12.9 hectare recreational park would witness a beehive of activities. Hawkers trying to make a kill as people throng in in huge numbers while the long serving dais would majestically host influential leaders in our society.
May 1, 2020 is an unprecedented Labour Day. Coronavirus pandemic has brought to a halt majority of jobs, pay cuts are the order of the day and due to cessation of movement in some counties many are forced to stay at home.
It is a tradition that on this day workers show off and proudly match across the grounds where national celebrations occur with hopes that at the end of the ceremony during the maiden speech by the Secretary General of Central Organization of Trade Unions (COTU), Francis Atwoli good news will come out.
So far, the pandemic has resulted to organizations sending employees on paid or unpaid leaves while for some the pandemic has seen an end to their income.
During the 2019 Labour Day celebrations COTU advocated for a 15 per cent wage increment but the proposal was dismissed by Federation of Kenyan employers FKE who blamed the lack of sustainability of the high wage bill and rising cost of doing business.
According to the economy survey 2020, 846,300 jobs were generated in the formal sector while 767,900 were generated in the informal sector in 2019.
As per the latest data from the Kenya National Bureau of Statistics, more than four million of Kenya's youth who are eligible for work have no jobs.
Take a quick survey and help us improve our website!
Take a survey
The effects of corona virus spreads across all sectors and this may pose a threat increasing the number of job losses in the country.
During this year's lonely address to the workers from State House, COTU boss Francis Atwoli has now urged employers to consult employees before reducing their salaries and desist from failing to consult their unions.
Further Atwoli has mentioned that COTU is committed to the Building Bridges initiative that aims to relook at the Constitution.
However Salaries and Remuneration Commission is on the spot once again for interfering with agreements made between employers and unions.
Through the COTU Secretary General, the union now wants the commission disbanded through the Building Bridges Initiative.