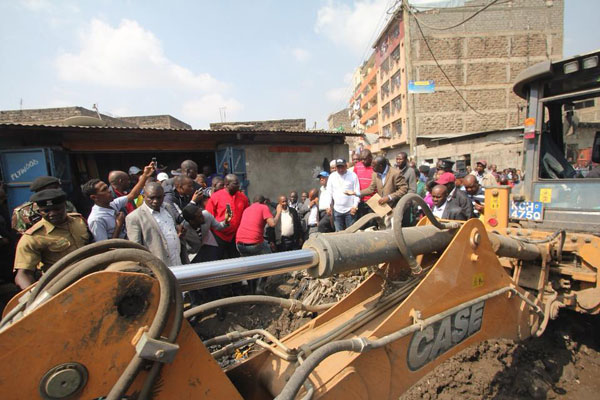 The government is recovering 1,214 hectares of land grabbed from Dandora Estate Waste Sewerage Treatment Plant in Ruai.
According to a statement signed by Joseph W. Irungu, principal secretary water, sanitation and irrigation Dr. Nicholas Muraguri, Principal Secretary lands and physical planning, the plant serves as the only waste water treatment plant for the city and its first phase of construction began in 1975.
The repossession has come as the Ministry of Water, Sanitation and Irrigation strains to handle sewerage needs and water supply to the 9.3 million residents of the Nairobi metropolitan area.
Only 50 per cent of Nairobi has sewerage coverage, a situation that has led to gross pollution of water sources, rivers and the environment endangering both the ecosystem and the people living in such environs.
With no alternative in finding land for such projects, the government has turned to remove the mole that has grown under its watch for decades.
Together with the reclamation of the land stolen in Dandora, other projects such as the Sh20 billion sewerage project financed by a loan from African Development Bank and French Development Agency. The project expected to be complete by July 2020 will see 80,000m³ a day of sewerage treated and thus connecting more household in Nairobi to the sewerage system.
Read More
The repossession coincides with the Earth day 2020. A study by IPSOS revealed that 25 per cent of the world population thinks water pollution should receive the most attention from leaders while 37 per cent believes global warming should take first priority.
Nairobi's population has an annual growth rate of 3.9 per cent, a situation that will worsen the already scarce supply of clean water and increase pollution of rivers and water sources. If something is to be done, it has to happen now.
"Sixty-two of land set aside for infrastructural development in Nairobi and its environs has been grabbed by private developers," read a statement by the Ministry of water, sanitation and Irrigation.
The 1,796.497 hectares equivalent to 2,500 football fields was set aside for expanding water and sewerage facilities to serve the 4.4 million Nairobi resident. Unfortunately, most of these lands are now in the hands of 'ghosts' in the name of private developers.
Through the decades, private developers together with squatters camped on the land, slowly encroaching the land leaving only 38.6 per cent of the land utilised for sewerage treatment and even that has been encroached.
A similar trend has plagued the other pieces public of land meant for sewerage treatment in Kariobangi, Karura, Karen, Kabete and Kahawa west.