Covid-19: Eleven more people test positive as Kenya's cases reach 281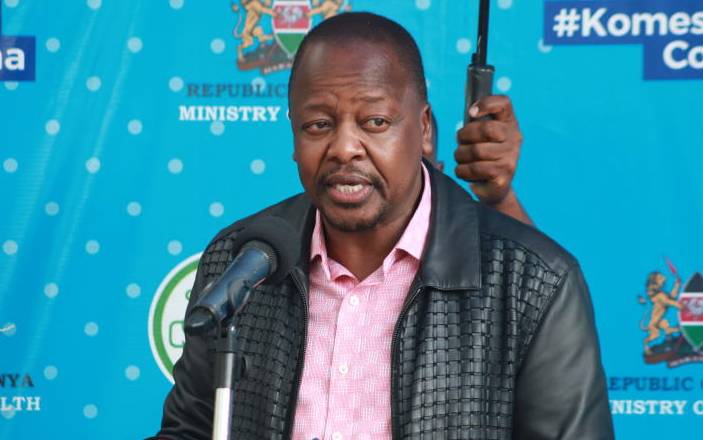 Eleven more people have tested positive for coronavirus bringing Kenya's cases to 281, Health Cabinet Secretary Mutahi Kagwa has announced.
In the daily media briefing on the Covid-19 pandemic, Mr Kagwe (pictured) said that the government is committed to ensuring that contacts are traced to avoid escalation of the infections.
He said that out of the 11 new cases, seven of them were traced in Bondeni, Miritini and a couple of other estates in Mombasa. He said that the remaining four people are from Nairobi, where two are from Ruaka estate.
The CS raised alarm on Mombasa saying that the seven cases noted in the coastal city may worsen the situation if not properly handled. According to Kagwe, three of the seven people who tested positive in Mombasa may have come into contact with the herbalist who succumbed to the disease recently.
He said two patients recovered and were discharged from the treatment wards. He added that two medics also got infected where one of them has recovered, while the other is still undergoing treatment.
Kagwe warned the public against being complacent and disregarding the health safety rules. He hinted at the possibility of developing thinking that the disease only affects Nairobi and coastal counties.
"It is not a Nairobi disease…we just need to keep emphasizing on keeping distance," he said.
Speaking about the extent of the spread of the virus, he listed Machakos, Kajiado, Kiambu and Murang'a counties as possible areas with new cases, which will require firm interventions.
Some of places he said to have noted new cases include Machakos (Syokimau, Kamulu, and Kithunguni), Kiambu (Githurai, Githurai 45, Waithaka, Watalam), Kajiado( Kitengelka, Matasia and Rongai) and, Muranga (Langata and Lumumba Drive).
In his press conference, CS Kagwe warned against defying government directives on the curfew, ban on social gathering and lockdowns. He said that the government has already put atleast 400 people on forced quarantine for defying the directives. Upon this number are other 483 people he said were quarantined.
"We have 33 Quarantine Centres that are currently active. We have closed down a good number of sites. At the moment, we have 483 individuals in the various centres across the country. We have also quarantined 455 other persons for defying the national curfew regulations," he stated.
He urged the National and County government agencies to move swiftly and settle the debts owed to suppliers of oxygen so that they can restock them for emergencies.
"I am appealing to National and County health facilities to settle any debts owed to oxygen suppliers. Those holding oxygen cylinders should also make plans to return them to suppliers so that we can have them filled up," he said.
The further said: "I am aware we also have a number of Oxygen plants of our own. Facilities with such plants should make haste and repair what is not functional."