Police training college suspends program over coronavirus pandemic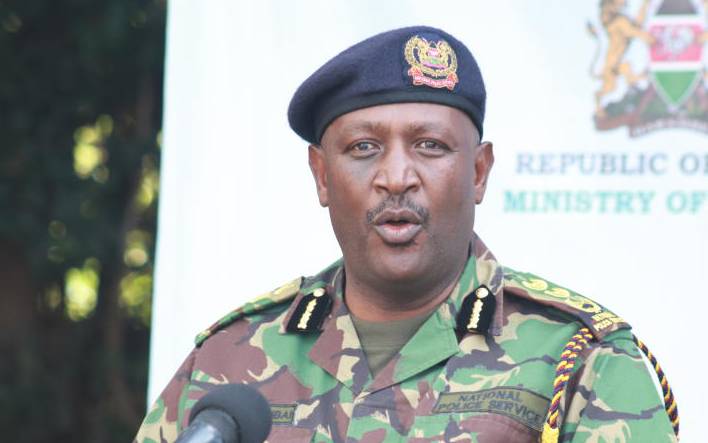 The National Police Service has suspended training at the Kenya Police Training College in Kiganjo, Nyeri over coronavirus pandemic.
This came after it emerged one officer at the college tested positive of the disease.
"The latest report being received is that one officer who had attended the just concluded courses at Kiganjo main campus has tested positive to Covid-19. It has now been directed that all officers who came from the same institution recently to be put under self-quarantine," said part of a memo sent to all police commanders dated April 9.
It was directed that the officers should not mingle with their colleagues.
"Ensure this directive is adhered to without relentlessness."
Inspector-General of Police Hilary Mutyambai (above) announced the police training academy will be suspended indefinitely.
"There are no trainers and trainees right now in Kiganjo. The last course -which was continuing as of last week – was closed, and I can confirm none is there," he said.
The college is among those mandated to train police officers.
There were courses for senior officers and those on promotion that were ongoing. The college was not hosting fresh recruits.
A circular signed by the National Police College Commandant Mathias Pombo confirmed that the closure will affect officers who have been undergoing various training for the last three months.
Following the development, all Regional police, County police and all other formations have been ordered to collect the students from the college, as the training was suspended.
"All students of senior supervisory CMM A-course, CMM E-course, CMM traffic course and skill at arms course will have their courses closed tomorrow on Tuesday, April 7, 2020. You are therefore requested to arrange for their means of transport to reach at the college tomorrow Tuesday, April 7, 2020, latest by 0800 hours ready to pick them," read a notice from the college.
The affected officers were ordered to self-quarantine for 14 days after reaching their areas of work.
County commanders also issued directives to the affected officers asking them to self-quarantine.
There was panic in the service with some officers rushing to self-quarantine on learning of the developments from Kiganjo.