Families in city slum receive food donations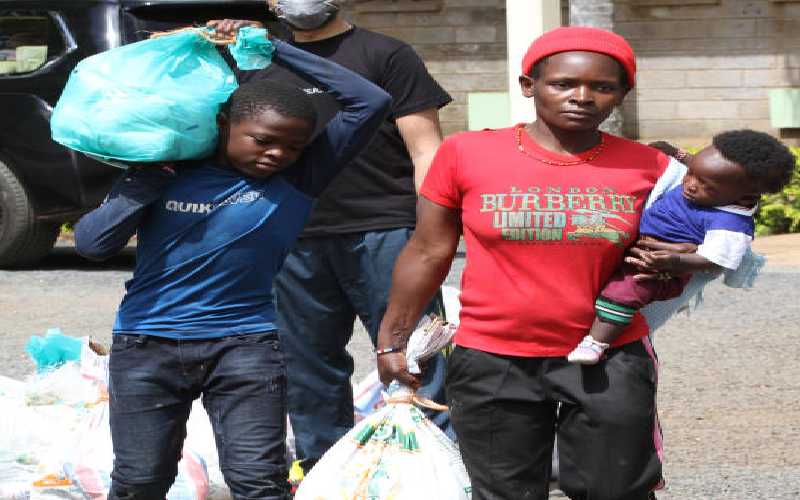 Hundreds of vulnerable families in Nairobi's Mathare slum received foodstuff and soap donated by private companies.
About 528 families yesterday benefited from a joint initiative by G A Insurance, I&M Bank Foundation and Shamas Rugby Foundation.
The donations are meant to cushion the families from the economic effects of the countrywide dusk-to-dawn curfew occasioned by Covid-19.
"As a group, we do quite a bit of charity in this country and of course these are unprecedented times we do need to look after the needy," said Sachit Shah, GA Insurance executive director.
Targeted areas
Mr Shah said they are targeting 2,000 needy families in Mathare, Kibra, areas in Eastlands, Kangemi, Ruiru Kimbo and Uthiru.
"The aim is to provide, as a start, 400,000 meals to at least 2,000 families," said Shah.
Shamas Rugby Foundation identified the needy families. The foundation is a sport-for-development organisation that uses rugby to promote holistic development of underprivileged children and youth.
Head of Operations at Shamas Rugby Foundation Prisca Atemi said they keep a database of the families they work with, hence were able to contact all the parents and allocated them different times for collecting donations in order to observe social distancing.
Four weeks
"We work with their children and they are not training right now, they are at home. This food is supposed to cater for them for the next four weeks. Hopefully, we can come back and support them until this pandemic is over," said Ms Atemi.
"Looking at how things are going on, with the virus currently hitting Nairobi hardest so far, most of the families coming from informal settlements depend on small jobs. And having many of them at home means they have very little access to food," Atemi said.
She noted that most children in informal settlements depend on school feeding programmes. [Anyango Otieno]