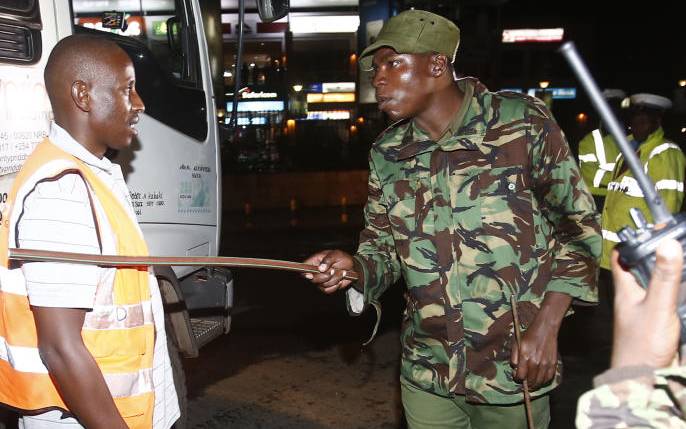 As the country got into the second day of curfew, there was outrage among Kenyans who came out to condemn widespread cases of police brutality witnessed on Friday.
For Amos Njoroge, an employee of Ponty Pridd Holdings, the day was like any other and his work was clearly cut-to deliver foodstuff to a supermarket in Kakamega Town. His video has been doing rounds on social media as he is engaged by a group of police officers who then turn against him.
Curfew hours kicked in as he was entering Nakuru Town with plans to spend the night in the town before proceeding with his journey to Kakamega.
"As I entered Nakuru, I was stopped by police officers in the first roundabout along the highway and I showed them the documents after which they allowed me to continue with the journey after I told them I would be spending the night in Nakuru," narrates Njoroge.
As he approached the second roundabout he was stopped again by another contingent of police officers who asked him if he knew the meaning of a curfew. He informed them that he planned to spend the night in the town despite being in the exempted category.
He states, "They ordered me to alight and I showed them the documents and they sarcastically asked if I knew what a curfew means before they ordered me back into the vehicle."
As he turned his back to get into the vehicle, the police started flogging him and threw back the documents to him in the vehicle. Njoroge then drove to a petrol station where he spent the night and proceeded with his journey, getting to Kakamega at about 1 pm on Saturday.
"I have not recorded any statement anywhere because I do not believe I will get any justice for this heinous action but I believe there needs to be an inquiry because so many innocent people suffered in the hands of the police," says Njoroge.
The transport company, Ponty Pridd, has condemned the violence meted out on its driver stating that if the supply chain breaks then basic goods and services will lack in the country. It reminded the government of Kenya Subsidiary Legislation 2020, number 13 which covers the truck being driven by Njoroge.
"Ponty Pridd Holdings has viewed with shock and disappointment a video circulating on social media of police officers assaulting one of our drivers and hereby condemns in the strongest fashion this inhumane treatment. In this period of social distancing and a good percentage of population staying at home, it is imperative to keep the supply chain working," read the statement by Anthony Wainaina, the company's managing director.