Governors protest 50pc salary cut, cite loans and mortgages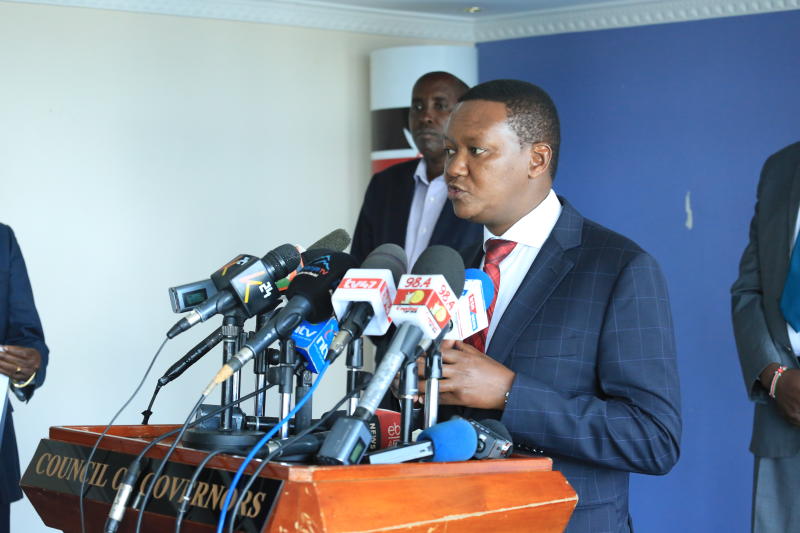 Governors have committed to a 30 per cent pay cut.
The decision was, however, reached after much haggling with the county bosses roundly rejecting a proposal for half salary reduction.
Yesterday, they rejected a proposal for 50 per cent pay cut for three months citing huge loans and mortgages they are currently servicing.
It also emerged that some of the governors have not received their salaries for the last two months even as they resolved to take a 30 per cent cut.
A virtual emergency meeting convened by the county bosses saw a proposal to institute 50 per cent pay cut for the governors and their deputies roundly rejected as "too much".
Machakos Governor Alfred Mutua (above) had in the meeting — convened to discuss response to the global Corona virus pandemic — proposed a 50 per cent cut, which was rejected by his colleagues, some of who said their salaries were committed to repaying loans.
Council of Governors Chairman (CoG) Wycliffe Oparanya was the first to reject the proposal. "I think 50 per cent will be too much for us. Some of us have mortgages and loans that we are servicing," said Oparanya.
Josphat Nanok (Turkana) also raised issues of loans and mortgages while seeking clarification as to whether the cut will be subjected to their gross salaries or net pay.
"Will this be cut on gross or net salary because most of us have mortgages," posed Nanok.
Governors Cornel Rasanga (Siaya), Kiraitu Murungi (Meru), Mutahi Kahiga (Nyeri), and Ali Roba (Mandera) instead supported a 30 per cent pay cut.
The meeting finally resolved that governors and their deputies take a 30 per cent pay cut for the months of April, May and June, while county ministers and chief officers will suffer a 20 per cent cut for the three months. Directors will also take a 10 per cent slash.
President Uhuru Kenyatta on Wednesday announced a 80 per cent cut for himself and his deputy William Ruto, while his Cabinet Secretaries will take a 30 per cent reduction.
Oparanya told the governors that since "taxes have been relaxed", in reference to President Kenyatta's reduction of Pay As You Earn, the 30 per cent cut will be manageable for the three months.
Kiraitu suggested that the collection be channelled to a county kitty, indicating the counties' discomfort in having the monies in a national kitty.
"We support the 30 per cent proposal but we suggest that the money be channelled to a county kitty and even involve the business community in making contributions," said Kiraitu. Makueni Governor Kivutha Kibwana said it was unfair for the governors to decide for their deputies and other county officers on what cut they should take.
Prof Kibwana said the governors should consult their deputies and other officers for them to decide how much of their salaries they want to donate in the fight against the viral disease.
"We cannot commit for other people. We need to consult the other officers otherwise it will be unprocedural to make a decision for them," said Kibwana.
But the CoG chairman directed the governors to convene cabinet meetings in their various counties to approve the resolution.
He explained that the cut was voluntary and those who refuse will not be forced into it.
"It is upon respective governors to convene a cabinet meeting to agree on the resolutions. If we go into legalities, then this thing will not be implemented," said Oparanya.
"This is an extra-ordinary situation. We should not complicate the issue. If an employee refuses you let them be," he added.
The meeting also resolved to communicate with the county assemblies so that the speakers and Members of County Assembly can also take a pay cut.
The council protested that the National Government was receiving donor funding for the fight but had abandoned them to shoulder a lot of responsibilities.
"The National Government should come out to help us because it is them who get money from the international donors. They have to help the counties," said Oparanya.
The World Bank last week gave the government Sh6.1 billion to help in combating the Covid-19 pandemic.
The council also protested against the Ministry of Health's decision to send their medical officers to inspect isolation facilities in the counties.
Spend millions
Uasin Gishu Governor Jackson Mandago said it was a waste of taxpayers' money to spend millions going round county hospitals when the national government was not ready to supply medical equipment to the facilities.
"There is a team from the ministry going round to inspect isolation facilities instead of supplying us with medical equipment. If they can't make supplies what are they inspecting," posed Mandago.
Oparanya confirmed having met the inspection team and said it was an unnecessary waste of money by the national government to send "another doctor to go inspect what a county doctor is doing".
A proposal by Tharaka Nithi Governor Muthomi Njuki to have county water companies supply the commodity to residents for free for three months was also rejected after other governors said the companies rely on the charges to pay their staff.