Coronavirus: Security guards urge employers to give them more protective gear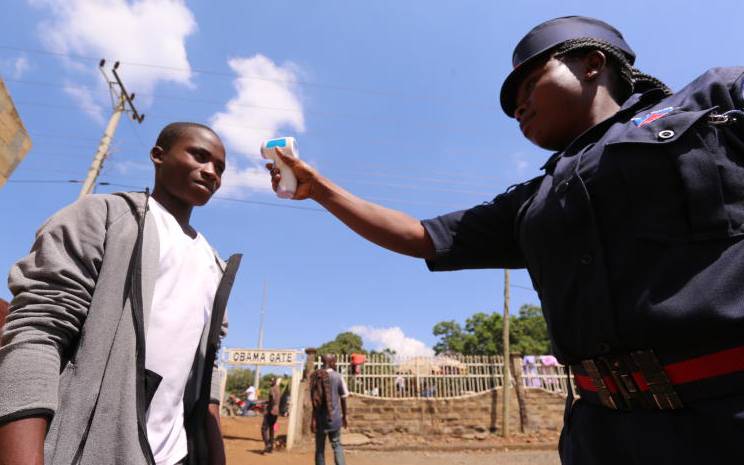 Representatives of private guards want the Government to compel employers to give their members protective gear against coronavirus arguing they are the first to come into contact with visitors to premises.
Kenya National Private Security Workers' Union (KNPSWU) has appealed to the Ministry of Interior to issue circulars compelling employers of security guards to protect them from contracting the virus.
The Union Secretary-General Isaac Andabwa yesterday said they fear for their members who are screening visitors at entry and exit points of private and public facilities.
"It is sad to note that this security guards are being exposed without requisite measures such as provision of protective devices/gears and training for self-protection," said Andabwa.
He said that in some cases, disinfectants and sanitizers are missing entry points hence exposing the guards to danger of easily contracting the dreaded disease.
The Union has urged the Cabinet Secretary the Ministry of Interior and Co-ordination of National Government Fred Matiang'i through the regulator to intervene in this matter.
Some guards told the Standard that since the confirmation of the first case, their work had immensely increased.
One of them is Betty Cheptoo, a security guard from 911 company whosaid that her work has increased since the announcement of the three cases of coronavirus in Kenya.
"Earlier, my work was easier because we never used to sanitize staff members nor measure their temperatures but of late I am now required to screen the those entering and exiting the office, "she said.
Cheptoo said that despite having all the protective gears like gloves and Sanitizers, she is yet to be equipped with face mask to enhance her safety.
"Having worked at 911 Company for over six years, I have never sanitized anyone or measured temperature but now I have to do that so that the people can be safe, "she said.
The guard added that she is applying strict measures to ensure no staff is entering the office without being screened.
She said sharing security access cards, pens and papers or even food staffs is no longer permissible lately because it is now risky.
Another guard, John Kimani, also said he is yet to be equipped with protective equipment.
Andabwa has urged guards' employers to make an effort to protect them and stop waiting for the Government's support.
"We want Matiang'i and the regulator to ensure the guard's employers are taking initiatives to equip the security guards," he added.
He added that the Union has over 500,000 members out of over 1 million guards most of who cannot afford sanitizers and gloves.
He proposed the need to have emergency contacts line at the County level so that the information might flow.
"We should be vigilant and responsible during the 14 days that the Government says it is conducting Monitoring process," said Andabwa.
He said that the Union is in support of President Kenyatta's directive issued on March 15, 2020 to ban the entry of travelers from corona-virus-hit countries and closure of schools.
"We were not prepared for this disease and there is need to have an alert message so that if there is any suspected case, one can report at the county level in addition to what the government level," he added.
The disease which spreads through droplets from coughs and sneezes has affected 156 countries so far and claimed over 7000 lives globally.