Doctors: Raphael Tuju to be fully recovered in two months' time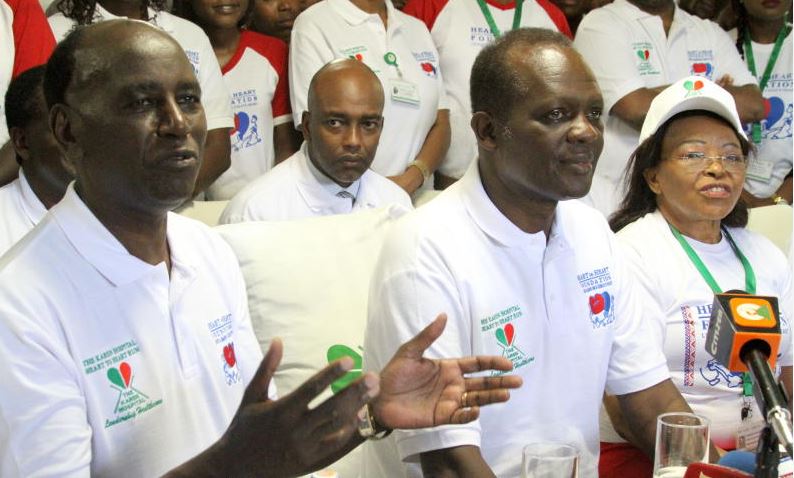 Jubilee Party Secretary-General Raphael Tuju is expected to fully recover in two months' time, according to his doctors.
Mr Tuju, who made his first public appearance yesterday since his return from the United Kingdom, where had been flown to seek treatment, is now able to walk without assistance.
He was injured in an accident on February 12, while on his way to attend the burial of retired president Daniel Moi in Kabarak.
First aid
Tuju was taken to Kijabe Hospital for first aid before he was airlifted to Karen Hospital in Nairobi for further medication.
He was flown to the UK on February 20, in the company of doctors and close family members.
The Jubilee leader is currently receiving physiotherapy treatment at Karen Hospital after jetting back to the country on Saturday aboard a KQ flight.
Premanand Promoth, the head surgeon at Karen Hospital, yesterday said Tuju's ribs would be healed within the next eight to 12 months.
"Any bone that breaks is expected to heal within eight to 12 months so I think that's what it is. Tuju is, however, functional. The only thing he's not allowed to do is lift or do anything bending down," said Dr Promoth.
The doctors were also impressed by Tuju's quick recovery, saying he was progressing well in his treatment.
"When Tuju came in after we received him from Kijabe Hospital, from what he was and what he is, he's shown he's a real fighter," added Promoth.
Following the accident, Tuju suffered multiple injuries, with 10 ribs on his right side and another three on his left being fractured. He consequently developed lung failure, leading to breathing complications. Tuju also suffered internal bleeding and head injuries.
"By God's grace, the ribs were not displaced. They were aligned so we treated them and allowed them to heal by themselves. For the air that was collected around the lungs, we put a tube in the lungs so that the air comes out... Things are now fine, we took out the tube and took him out of the ventilator and he's recovering through physiotherapy," said the doctor.
Tuju painstakingly yesterday recalled his journey to recovery, saying it was a miracle that he was alive.
The Jubilee Party secretary general regretted that he would not be able to participate in this year's heart-to-heart run at the Carnivore grounds, which aims to raise funds to help children in need of heart surgeries.
"I had a very tough experience and in a lot of pain. I had multiple injuries but the pain of those fractures is excruciating. I have a few enemies in this country and around the world, but I would not wish them the type of pain I have suffered," said Tuju.
"Part of my biggest regrets is that I will not be participating in this Saturday's heart run. I have been participating in it for the last 27 years since it started in 1993," he added.
Recounting his days away from home and while abroad for medication, Tuju said the entire experience had taught him not to take for granted things like being able to wake up each morning and visiting the bathroom.
"I survived a helicopter crash and now this car crash. I don't think I want to get into a boda boda crash. My muscles are becoming stronger, my faith is stronger, my mind is strong and I look forward to joining the rest of Kenyans in building this country," he said.
Tuju, however, steered clear of politics, declining to comment on the heightened political environment in the country.
Briefing session
"I lost one week of my life without recollection of what happened. Since I came back on Saturday, I've been engaging in physiotherapy, so politics is the last thing on my mind," he said, before revealing that there was a scheduled briefing session for him either today or Monday at the Jubilee headquarters.
Karen Hospital founder Betty Gikonyo urged the public to turn up in large numbers in support of the Heart-to-Heart Foundation run on Saturday at the Carnivore grounds from 7am. She said the proceeds from the heart run would go towards assisting needy children with heart problems to undergo surgery.
"We are expecting 30,000 participants. So far 600 children have accessed heart surgery and we have 20 children waiting in line," she said.