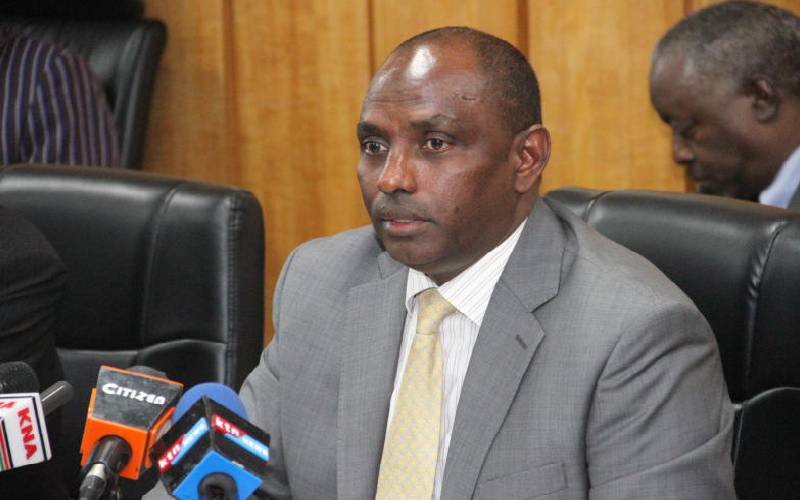 A protest by MPs against the nominee for the National Government Constituency Development Fund (NG-CDF) chief executive is threatening to scuttle the process, once again.
Treasury Cabinet Secretary Ukur Yatani has nominated Mohammed Abdille to replace Mr Yusuf Mbuno, who has been acting CEO for the past eight years.
Mr Yatani has already submitted Prof Abdille's name to the House and Abdille is expected to be vetted tomorrow by the National Assembly Select Committee on National Government CDF.
But it was the open opposition by some MPs – when the name was committed to the Igembe North MP Maoka Moare-led committee – that has put the second attempt by the House to recruit a substantive chief executive officer to the fund in limbo.
Read More
Speaker Justin Muturi had to cut short his statement to calm MPs who were chanting No! No! No! when he read out the name.
Mr Mbuno has been acting as the NG-CDF boss after the initial attempt by the House to get a substantive CEO flopped.
Those against Abdille accuse the CS of overlooking Mbuno. They argue Mbuno is best suited to run the fund, having served as acting CEO for over eight years and having emerged top during interviews.
According to the CDF Act, a substantive chief executive should serve a three-year renewable term.
Kenya subsidiary legislation, 2016, states that the National Assembly shall, within 21 days of the receipt of the name, reject or approve the nomination.
"Where the National Assembly approves the nomination, the speaker of the National Assembly shall forward the name of the approved person to the Cabinet secretary for appointment," reads the legislation.
However, in the event the House rejects the nominee, the CS will be required to bring a fresh nominee.
"The Cabinet secretary shall submit to the National Assembly a name from the list initially forwarded by the Board within seven days of receipt of the communication," it reads.
The board submitted names of Abdille – who was second in the interviews, Mbuno who topped and Jecktone Akello who was third.
Abdille was suspended from Masaai Mara University on November 15, 2019 where he was deputy vice chancellor in charge of Administration, Finance and Planning.
He was suspended by the university council over allegations of irregular hiring of staff and usurping powers of the council.
But Abdille, on Monday, cited a November 20, 2019 letter which Directorate of Criminal Investigations (DCI) boss George Kinoti wrote to Education Cabinet Secretary George Magoha to have him reinstated.
The letter signed by a Mr John Kariuki, on behalf of Mr Kinoti, stated that Abdille is a key State witness in investigations into the multi-million-shilling corruption allegations at the university.
"It appears this is a deliberate attempt to scuttle the evidence. We are requesting your good office to intervene for status quo to be restored so as not to frustrate and punish the witness (es)," reads the letter by the DCI to Prof Magoha.