Study: Why Uhuru may not win war on graft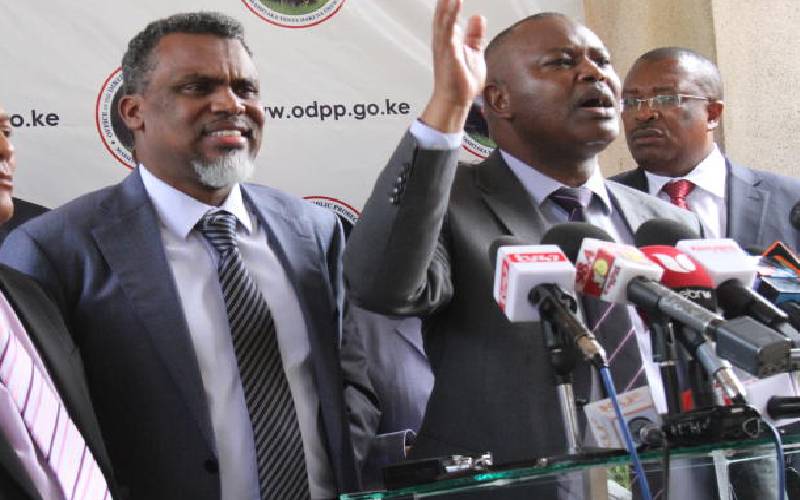 President Uhuru Kenyatta's anti-corruption efforts may achieve nothing because of 'State capture', according to a new report.
State capture is generally understood as a type of systemic political corruption in which private interests significantly influence a State's decision-making processes to their own advantage.
African Centre for Open Governance (AfriCOG), in its report titled 'State capture, inside Kenya's inability to fight corruption', says although corruption was persistent in Kenya even before independence, it has flourished after the country returned to multi-party politics in 1992.
The report says State capture networks have had an element of bureaucracy where favoured officials are allowed to accumulate, concentrate and exercise power in completely unaccountable ways, behind the shield of presidential privilege, State security or defense procurement.
State capture has also had a business side, the report launched yesterday says, which is often a clique of local business people allied to political insiders. At times, the favoured groups are shadowy, international companies whose shareholders are usually unknown.
"Capturing and controlling the Presidency – the source of power – and the Treasury – the source of money – is essential to fashioning the 'criminal web' necessary to re-purpose government for the benefit of rent seeking elites," reads part of the report.
"If capture is successful, State institutions, governance and functions are re-purposed and re-engineered over time and the constitutional State sheds many of its substantive, but not formal, democratic features and becomes increasingly autocratic, at least in the ways in which power is exercised de facto," the report says.
Goldenberg and other post-1992 scandals marked a watershed in corruption politics, which was a shift from a politics of State-led control to politics of competitive aggression, the principal victim of which has been the state itself, it notes.
The report says Goldenberg, Anglo Leasing and Eurobond scandals show the evolution of Kenya as as a country where kleptocracy has been institutionalised. It says Kenya is a country where "ruling networks and commercial partners have hijacked governing institutions and maintained impunity" for the purpose of raiding the budget to sustain themselves in power and for the security of the regime.
"The success of State capture relies on parallel informal structures, based on the Presidency, that subvert the constitutional institutions whilst maintaining the outward forms of those institutions. These informal networks are serviced with cash and loyalty," says the report.