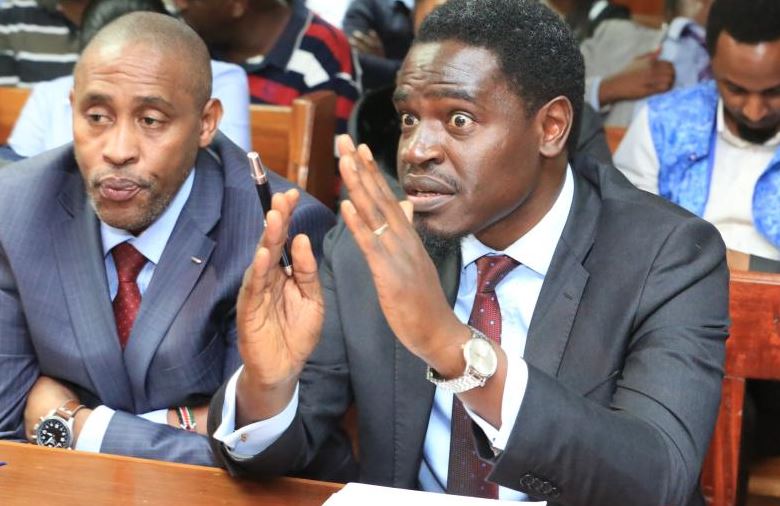 Law Society of Kenya (LSK) President Nelson Havi (pictured) has a lengthy list of goals he intends to achieve in his first 100 days in office. Mr Havi, who is barely one week old at the helm of the lawyers' body, told
The Standard
that his immediate task would be to push for independence of the Judiciary, obedience of court orders and minding the plight of young lawyers. The University of Nairobi alumni said he was different from previous LSK presidents, describing himself as 'hardworking, competent and determined'.
SEE ALSO: LSK has no 'grudge' against any of 24 Senior Counsel nominees-Havi
"I was voted in by 65 per cent which indicates that lawyers and the public in general have faith in me. They gave me a convention that what I ascribe to is what the people want." Top of the agenda, Havi said, would be to attempt to hammer a compromise between the Executive and Judiciary over the appointment of 41 judges. Speaking in his office in Westlands, Havi said he hoped to meet with Chief Justice David Maraga, Attorney General Paul Kihara and, if possible, President Uhuru Kenyatta to give his input on how to resolve the hiring row. President Kenyatta has declined to appoint the new judges recommended by the Judicial Service Commission (JSC) for promotion in a list forwarded in July and August last year. This is despite a ruling last month by the High Court giving Uhuru 14 days to appoint the judges. After the period lapsed, a petitioner went to court seeking orders to by-pass the president in the appointments. Determination of that case is still pending.
SEE ALSO: Why LSK contests conferment of Senior Counsel rank to 24 advocates
Integrity issues
"All the 41 nominated judges should be sworn into office without delay to enhance the justice system," said Havi, adding that only then should those who have integrity issues be compelled to face the relevant disciplinary bodies. According to Havi, those with grievances against the judges should forward them to the JSC, which will determine their veracity and decide whether they merit the formation of a tribunal to hear and determine the complaints on priority basis. "Former Supreme Court Judge Jackton Ojwang's integrity matter was concluded in two months' time. A similar procedure should be followed in determining the issues of those judges alleged to have integrity issues," he said. He continued: "It is important to note that we do not have sufficient number of judges and magistrates. We must find a solution to the appointment of judges so that the backlog of cases can be concluded in time."
SEE ALSO: All eyes on Chief Justice as LSK seeks to send MPs home
Havi also spoke strongly about the need to ensure that the rule of law and constitutionalism was strictly adhered to. The LSK boss noted that Chapter Six of the Constitution is clear that all State agencies and officers must comply with court orders. He said he would urge the public to compile a list of cases where State officers have disobeyed court orders before seeking audience with the AG and Solicitor General in the search for amicable solutions. Failing this, he said, the LSK would file a petition with the relevant authorities to declare State officers who defied court orders as unsuitable to hold office. "Those who defy court directives should not be allowed to vie for political office," he added. Havi warned that the Judiciary could not function independently if its autonomy is not respected. He noted that the Judiciary, the Executive and Parliament had recently been pulling apart as each arm of government sought to establish its independence and authority. He observed that the public had a key role to play in the making of laws, adding that he would seek appointments with both clerks and speakers of the National Assembly and the Senate to agree on modalities for active public participation. The LSK boss expressed fears that in the absence of a credible opposition in the country, the National Assembly, Senate and county assemblies had 'gone rogue'. "We want to ensure those three entities pass proper laws for the benefit of the public." Havi also said it was important to have a well-functioning land registry. "We shall establish a committee with other lawyers where we shall meet with the Lands minister and PS to agree on a working formula so that businesses and housing projects can operate well."
Key agenda
Another key agenda, he said, included pushing for passage into law of the Office of the County Attorney Bill that is pending in Parliament. Governors have been pushing for the establishment of a legal position at the county level whose mandate will be equivalent to that of the AG, and whose holder will serve as advisor to members of the county executive committees. On the welfare of young lawyers, Havi said he would be guided by Article 55 of the Constitution, which falls under the Bill of Rights, in his endeavour to ensure their needs were met. "I want young lawyers to get work in all entities, including the Government," he said. Havi also criticised the recent move by embattled Nairobi Governor Mike Sonko to surrender key county functions to the national government in the wake of corruption charges. The decision, he claimed, was "like killing devolution because the CECs should be able to function." "President Kenyatta ought not to have intervened in governor's case because democracy must be allowed to thrive whatever the consequences," he said. On the hot-button issue of the Building Bridges Initiative (BBI), Havi said the LSK "will give Kenyans direction so they do not make the mistake of rushing to ideas before evaluating and ascertaining what BBI is all about." "Our recommendation for the BBI is to have strong oversight institutions in force, and for the JSC to be given power to appoint judges." Havi said the BBI should also ensure that the Judiciary's budget is ring-fenced so that it does not experience budgetary cuts. "The LSK is advocating for independence of the Judiciary so that judges are not attacked during the performance of their duties."