Chinese nationals accused of assaulting Kenyan say they are ready for deportation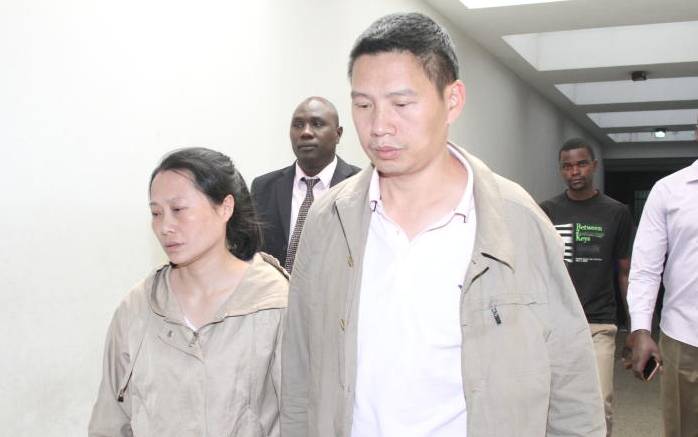 Four Chinese nationals accused of whipping a Kenyan on Tuesday told the court that they are willing to be deported.
Appearing before Judge Luka Kimaru, the four, Liu Jiang, Wang Kai, Zhao Liangbin and Li Shaoqing said they are willing to be deported.
The prosecution sought time to get directions from the Director of Public Prosecutions (DPP).
At the same time, the Director of Criminal Investigations (DCI) George Kinoti opposed their application at the trial court where they wanted the court to reduce 15 days detention.
Through Officer Noah Kiplangat, Kinoti had said that that application is an abuse of the court process intended to defeat justice and requested the court to dismiss it.
"Considering the nature of investigations and logistics involved, the 15 days sought in the trial court will enable us conclusively complete this Multi-Agency investigations without delay," said Kiplangat.
He said the Chinese nationals have been involved in degrading and violating fundamental rights thus breaching their condition of stay and their case for deportation is ripe.
The officer said that they have presented the suspect's fingerprints to the National Registration Bureau and the Criminal Registration Bureau and they are yet to receive feedback on the status of the suspects.
"The investigations against the suspects is ongoing and critical since we are still pursuing the employer /owner of the hotel who has since gone into hiding having learnt of the arrest of the suspects," added Kiplangat.
Kiplangat said that they need to obtain documents from the restaurant relating to the logins and logouts of the suspects for the period they have been in gainful employment in the country which will form part of the evidence.
He said the evidence can only be obtained when the suspects are in custody.
The court documents indicate that releasing the suspects at this stage will give them an opportunity to interfere with the investigations since they have not managed to obtained documentation from the restaurant that would form part of the evidence, in this case, having been denied access to the restaurant.
The officer said the investigation is being conducted by a multi-agency team and they are yet to receive documents from the agencies in support of their case against the suspects.
The agencies involved include Interpol, KRA, and Immigration Department, County Government of Nairobi and Chinese Embassy.
"The complainant who is fearful for his life is yet to record a further statement since he has been receiving calls from unknown persons pertaining to the case hence releasing the applicants hence releasing them at this stage will give them an opportunity to interfere with the witnesses," said Kiplangat.
The affidavit was being heard by Judge Luka Kimaru.