Kenyans solve trade rows but family cases fought bitterly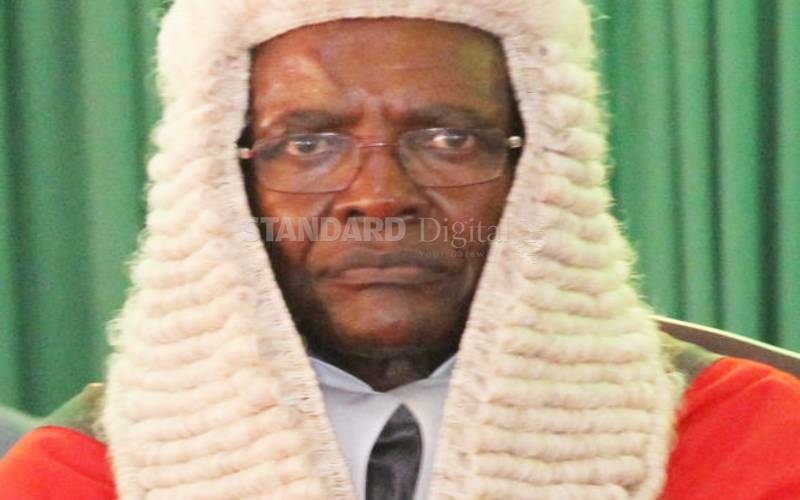 Kenyans are more willing to settle business disputes out of court, but they will fight to the bitter end in court in cases on divorce, inheritance and child custody.
This is one of the findings following last month's launch of the eigth State of the Judiciary and Administration of Justice Annual Report for the year 2018/2019.
Speaking at the event, Chief Justice David Maraga said that in a bid to improve access to justice for all, the Judiciary had rolled out court annexed mediation as an alternative dispute resolution (ADR) method in 12 counties.
Mediation is praised for helping reduce the cost of resolving disputes, which can often tie up assets and cash worth billions of shillings. When mediation fails, the parties revert to the courts for justice.
But from the report, it would appear that ADRs – where two parties resolve their differences with the help of a mediator – are popular between those settling business disputes and not matters of the heart.
At least Sh21 billion is frozen due to legal battles at the Commercial Court, while disputes before the Family Court revolve around property worth Sh8 billion.
The Family Court deals with inheritance, divorce and matrimonial property cases, the Children's Court handles cases on maintenance and child custody while the Commercial Court resolves economic, commercial and financial disputes.
Children's court
The Judiciary report also shows that the Family and Children's courts had a higher number of cases without agreement than the Commercial Court. The numbers were 237 and 118, respectively.
A total of 2,905 cases were referred to mediation in 18 courts countrywide. Out of these, 1,879 cases were either fully or partially settled. No agreements were reached in the remaining cases.
Mr Maraga said that mediation had helped free up at least Sh7 billion that had been tied up in the courts into the market. He also observed that Kenyans were increasingly becoming litigious.
The CJ noted that the Judiciary did not recognise class, with both the rich and poor flocking the corridors to either sue or after being sued.
"We run an institution that is like a hospital. If you disguise yourself and go to Kibera and Makadara, you will see the pain of the people. Some are extremely poor. If their cases are not heard, they are in great pain," said Maraga.
According to the report, one out of 14 couples are likely to divorce. There were 2,413 divorce cases filed in court compared to 35,000 registered marriages.
Estranged spouses
Only 148 of the cases were filed in the High Court, with most estranged spouses preferring to fight their love battles in the magistrate's courts.
There were more cases filed in Nairobi, Mombasa and Nakuru. In Milimani, 1,125 cases were filed in the magistrate's court while the Family Court had 49 cases. There were 103 cases in Nakuru and 102 in Mombasa.
Courts in Mumias, Narok, Runyenjes, Wajir, Garissa, Garsen, Kitui and Kathimani handled only one or two divorce cases in the year.
The report also shows that most citizens are in court for offences against persons, stealing, dealing with dangerous drugs, or offences against morality.
Offences against a person refer to either assault or battery, domestic violence, stalking, harassment or hate crimes.
An offence against morality, on the other hand, has no victim. Instead it is a crime committed by consenting adults or to animals. This includes prostitution, bigamy, pornography, having sex with a mad person, detaining a female person for sex, running a brothel, procuring abortion, and having sex with animals.
Cases against other persons and stealing account for 31 per cent and 16 per cent, respectively, of matters in court.
Dealing with dangerous drugs and offences against morality – each accounting for 10 per cent of cases in court – tie for third and fourth in the list of top four crimes committed in 2018/2019.
The report further reveals that one out of 80 Kenyans either has a criminal or civil dispute in court.
Crime figures, like litigation numbers, have also increased steadily in the last six years, up from 242,000 to 343,000.
From a low of 92,000 civil cases in 2014, at least 141,000 Kenyans were in court in fights over land, employment, business, defamation or family matters.
Civil cases
The numbers in 2016 looked to buck the trend with civil cases dipping to 85,000. In the same year, crime numbers stood at 258,000.
The report revealed that Nairobi is the murder capital with 157 cases lodged at the criminal court in Milimani. Meru followed with 113 cases, Eldoret had 96 while Kakamega and Machakos had 82 and 81 cases, respectively.
Marsabit County, with a population of 459,785, only had four murder cases. Busia had nine cases against a population of 893,681. Lodwar, Garissa and Malindi registered 12, 13 and 14 cases, respectively, in the year under review.
Magistrate's courts, the report revealed, were busy dealing with traffic offenders. Out of 329,000 cases filed, 191,000 were criminal, 124,000 were traffic matters while sexual offences numbered 10,000.
Court fines had also increased by 33 per cent from Sh1.2 billion to Sh1.6 billion. This meant that cases which required fines as punishment were determined faster.
This also saw some courts grow their fines by over 1,000 per cent.
The court in Gatundu grew its fines and fees by 1,613 per cent, representing Sh11 million in fines and Sh5.6 million collected in court fees while Homa Bay Magistrate's Court saw a 1,200 per cent increase in fines and fees.
The court in Moyale witnessed a 384 per cent increase and collected Sh7 million in fines while the Lamu court saw a 219 per cent with Sh2.8 million collected in fines.