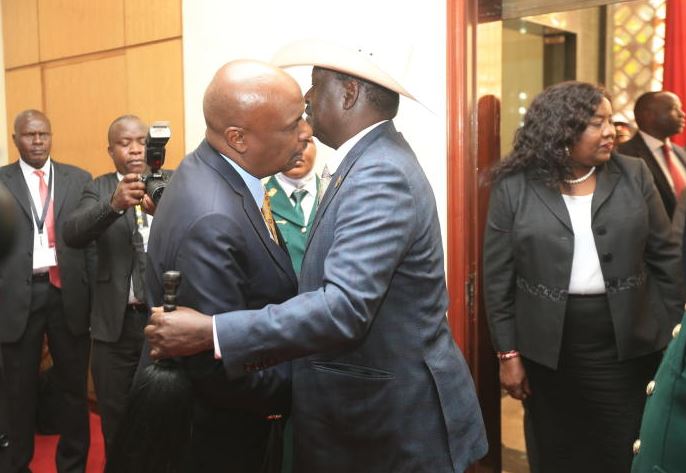 ODM leader Raila Odinga yesterday talked about his family's long-standing ties with the former President Daniel arap Moi, who he described as a freedom fighter. Raila recalled learning about Moi for the first time in 1958, a few years after the country's second president joined the Legislative Council of Kenya (Legco) alongside his late father Jaramogi Oginga Odinga. The former Prime Minister was yesterday among thousands of Kenyans who paid their last respects to Moi at Parliament Buildings, where his body had been lying in state for three days for public viewing. The viewing ended yesterday. Today a State funeral service will take place at Nyayo National Stadium for Moi, who died last Tuesday. Carrying a fly-whisk in his right hand, Raila paid his last respects to Moi in the company of his wife Ida and son Junior.
SEE ALSO: Nairobi's growth shocked Mkapa — Recalls ADC
Raila waved the fly-whisk in a scene reminiscent to his father, Jaramogi, who did the same as he paid his last respects to the country's founding President Jomo Kenyatta upon his death in 1978. Jaramogi had served as Kenyatta's vice president, but they fell out thereafter.
Met family members
The ODM leader then went for a brief meeting to condole with Moi family members, among them Raymond Moi (Rongai MP), Gideon Moi (Baringo Senator) and Philip Moi. "On behalf of the family of Jaramogi Oginga Odinga, and on behalf of my family, we would like to convey our heartfelt condolences for the sad loss of Mzee," said Raila. Raila, who flew back into the country from Ethiopia around midday yesterday, said Moi did a lot for the country when he served as President for 24 years. "Mzee was a freedom fighter. He and my late father were among the first African people to be elected in Legco. And I came to know him for the first time in 1958 up to now. So I have known him for a long time and he has done a lot for this country," said Raila.
SEE ALSO: Raila breaks silence on revenue share stalemate
He said he informed several Heads of State about the death while at the African Union headquarters in Ethiopia. "I have been at the AU and I have informed a number of Heads of State and some will come here," he said. He further described Moi as a cheerful and humorous leader, recalling how the former president was in his element when he visited him in Kabarak. "Mzee has lived a full life. He was cheerful, even the last time I met him in Kabarak he was cheerful and humorous as before. He has taught many people different things," he added. Raila has had a hate-love political relationship, sometimes to the extreme that saw him detained by the Kanu regime. After the disputed 1997 General Election, in which Moi was reelected for a final term in office, Kanu and Raila's National Development Party (NDP) started a loose alliance, which culminated into a merger on March 18, 2002.
SEE ALSO: ODM denies a pre-election deal between Raila, Kalonzo
The Kanu-NDP merger saw powerful Kanu officials kicked out of their positions to accommodate the new team. Raila was named secretary general, replacing long serving Joseph Kamotho. Moi would later appoint Raila to the Cabinet as Energy Minister. But the political dalliance was short-lived. Raila would later lead a walkout from Kanu after President Moi picked Uhuru Kenyatta as his preferred successor. The rebel faction identified as the Rainbow Alliance joined National Alliance of Kenya (NAK) of Mwai Kibaki, Kijana Wamalwa and Charity Ngilu to form National Rainbow Coalition (Narc), the opposition tool that ended the independent party's reign. Kibaki succeeded Moi as the country's third president. The former premier also had run-ins with the Kanu regime, particularly in 1982, over the abortive coup. Raila was charged with treason over the attempted coup and detained for six years. He was released in February 1988, but six months later detained again and released in June 1989. Raila would later be jailed again in 1990 and finally released in 1991 when he fled the country to Norway. During this time, Ida lost her teaching job in unclear circumstances. Raila and Ida have since reconciled with Moi. "You cannot live with bitterness your entire life. You must forgive and be free. After 1993, we forgave each other and moved on," Ida said in a recent interview. "I was never happy with Moi until one day one of his friends, Reuben Chesire, took me to his home and we both said sorry and forgave," she recounted, adding that Moi had wanted them to forget the past and work together for the common good of Kenya.