Kibaki among hundreds to honour Mzee Moi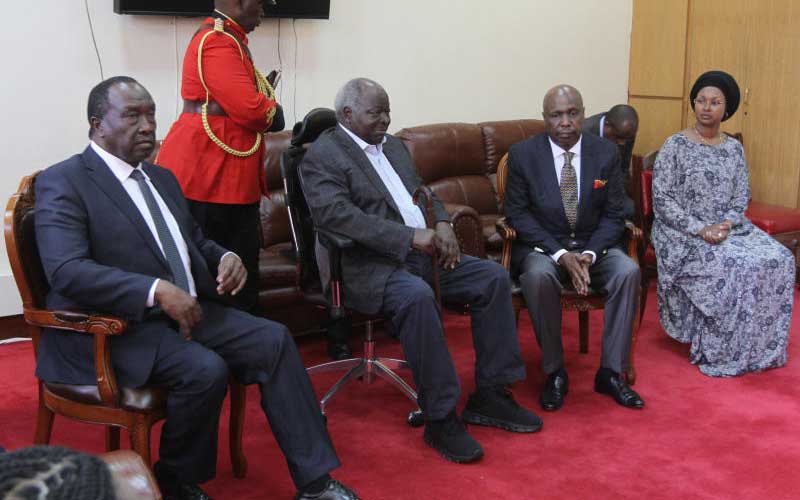 Former President Mwai Kibaki was among hundreds of Kenyans who paid their last respects to former President Daniel arap Moi at Parliament Buildings yesterday.
Kibaki arrived at around 11.30am and was received by Senator Gideon Moi and Rongai MP Raymond Moi.
Journalists were prevented from covering Kibaki's arrival and exit after they were kicked out of the viewing area. Photographs later showed him bowing in front of the body with his right hand on his chest.
Chief of Defence Forces Samson Mwathethe was also present. Kibaki, who succeeded Moi after winning the 2002 General Election, then had a chat with Gideon and Raymond.
Long queues were witnessed on Moi Avenue, Harambee Avenue, Taifa Road, City Hall Way, Parliament Road and other adjacent roads in the morning as people patiently waited for a chance to view Moi's body.
Some of those who spoke to The Standard said they had waited for up to two hours.
Moi's remains were brought to Parliament Buildings from Lee Funeral Home for the second day at about 7.20am.
Next to his body was a Bible, a hymn book and his famous rungu. The body was also clothed in a different suit and shoes compared to Saturday's attire.
Among those who braved the hot sun was Jacinta Gitau, a former police corporal who resigned to join politics in 1979 when Moi had been in power for only one year.
Mrs Gitau, 79, recalled how she first ventured into politics on a Kanu ticket in Mathare ward and came a distant third out of 17 candidates.
"I have remained in Kanu ever since," she said as she eulogised the former president as a "loving, caring and great leader who ensured there was peace in the country."
Simeon Omboga Makori said he had travelled from Kisii to come and pay his last respects.
"I will brave every situation to attend his burial at his Kabarak Home. I remember mzee as a peace-loving and generous man," said Mr Omboga.
Ramadhan Mbaruku from Mombasa remembered Moi for securing him employment at the National Social Security Fund.
"I felt that I should come and grieve with other Kenyans. It was his decree that got me a job in 1993 as a finance manager until I retired in 2000," said the 78-year-old man.
Julius Mwavu said he left Makueni early in the morning to be in Nairobi by 11am. He queued for an hour before being plucked from the line with other senior citizens and ushered into Parliament.
"Moi was a man of respect. I got my job as a court clerk in 1978 after he became president. I worked for 20 years. I was later retrenched but I owe my job to the late president."
Rachel Kalewa, a 26-year-old mother of one, also braved the sun with her daughter. She said that although she didn't know much about Moi, her older siblings had inspired her to come for the viewing.
"I used to hear my dad and my elder sisters talk fondly of the many good things President Moi did in their time. I used to hear my sisters talk about school milk. I had to come to see him," said Ms Kalewa.
At least 30 mourners fainted during the viewing and were offered first aid by volunteers from the St John's Ambulance and Red Cross.
A requiem mass will be held for the former Head of State tomorrow at Nyayo Stadium before his burial on Wednesday at his Kabarak home.
Several leaders, including Raila Odinga, are expected today at Parliament Buildings.
Kenyans are also expected to continue lining up on Nairobi's streets for a chance to view the body. Some were in the city as early as 4am to beat the long queues.