Ruto and Raila eulogise Moi as statesman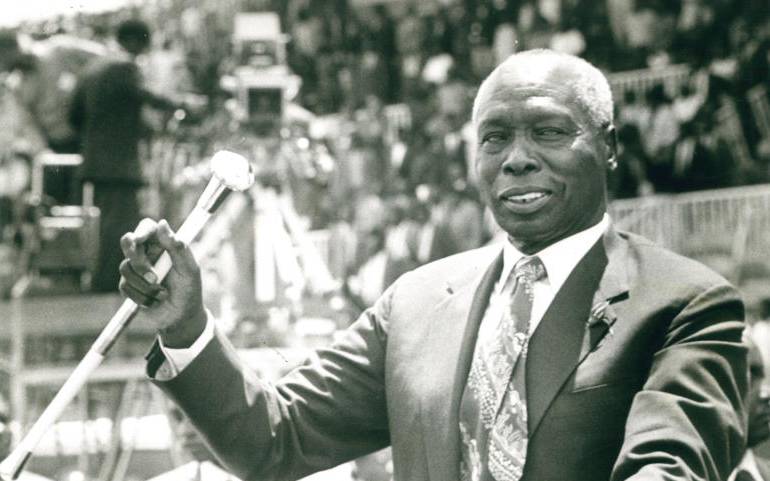 Deputy President William Ruto and ODM leader Raila Odinga have eulogised former President Daniel Toroitich Arap Moi, who died at Nairobi Hospital Tuesday morning.
Ruto described him as a man who left the trail of 'an undeniable legacy of success against daunting odds.'
Ruto, who entered politics under the guidance of the late head of state said that Moi lived a humble life and rose from being a teacher to the echelons of power, a situation he attributed to his personal values.
He said: "As a teacher-evangelist who improbably and reluctantly entered political leadership and excelled in it, Mzee had no time to prepare or learn outside the job. His genuine concern, selflessness, loyalty and sincerity, however, enabled him to stay in power and attract the support of millions of patriots."
"We will never forget Mzee's legendary personal discipline and determination to serve God all the days of his life, and the lessons, as well as the example he has set for us, must enable us to strive to excel in our time. He taught and mentored many into leadership. I being one of them."
He credited Moi for presiding over the smooth transition of power when former President Mwai Kibaki won the 2002 elections, after which retired gracefully.
Ruto said: "Against the expectations of many, Mzee Moi led the reforms that enabled Kenya to enjoy vigorous de facto and de jure multiparty democracy as well as civil and political freedom. He submitted himself to presidential term limits, graciously entering a dignified retirement. God has been kind to him as he enjoyed many peaceful years outside the presidency of Kenya."
On his part, former Prime Minister Raila Odinga reminisced on the time he first met the retired president in 1958.
He described Moi as a statesman who was deeply engraved in serving the interest of the citizens.
He said: "I first met President Moi in 1958 when my father Jaramogi Oginga Odinga invited the first African elected members of the Legislative Council to our home in Bondo. I was a teenager and Moi, who represented the Rift Valley, was in the company of Masinde Muliro, Lawrence Oguda, Tom Mboya, Bernard Mate, James Muimi and Ronald Ngala."
Odinga praised Moi for allowing a multi-party state which gave rise to the registration of more political parties hence strengthening democracy.
"To his credit, President Moi gave in to the clamour for change and allowed the country to return to multiparty politics. He was constantly able to ease pressure in the country through incremental reforms," he said in his eulogy.
The ODM leader, whose National Development Party (NDP) teamed up with Kanu after the 1997 General Election before breaking ranks remembered how the late Mzee Moi played a pivotal role in strengthening democracy.
"Moi and I reconciled after the political differences of the 1980s and early 90s and we were able to work together to bring more reforms to the country."
Added Raila: "Our cooperation gave way to the merger with his party Kanu, which put the country firmly on the path to a new constitution by enabling the formation of the Constitution of Kenya Review Commission (CKRC)."
"In his retirement, again to his credit, President Moi carried and conducted himself with complete dignity befitting an elder statesman," he added.
The retired President Moi died at Nairobi Hospital on Tuesday morning aged 95. President Uhuru Kenyatta declared national mourning and ordered national flags to be raised half-mast.