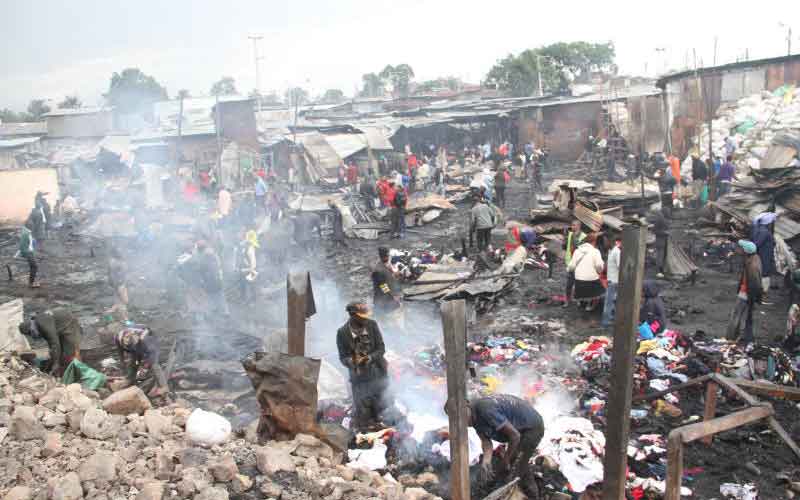 The phone call came at 4am and after several rings Joshua Mboya jolted awake and picked up.
"Gikomba kunachomeka (Gikomba is on fire)," came the frantic voice from the other end.
Mboya, 26, is a jua kali artisan and sells metal boxes and sufuria at Gikomba market.
He brushed the message aside, after all the store where he kept his goods was not in the section of Gikomba he imagined was on fire, not really.
"I acknowledged the message and rolled back to sleep. I thought that he meant the other side of Gikomba where second hand clothes are sold," said the father of three.
He was standing in the middle of what had previously been his store in Gikomba just behind Muthurwa Primary School -- watching as hired hands remove charred and crumpled metal boxes.
Around him traders were rummaging through the charred iron sheets, half burnt pieces of timber and ash searching for anything that been spared by the fire.
According to the Kenya Red Cross Society, the fire started at around 4am yesterday. No casualties were reported but property whose value could not immediately be established was lost.
"When I was coming to open the shop and the matatu I was in neared Gikomba, I thought the smoke was from the wrong place and imagined it was fog I was seeing," Mboya said. It had been raining at night.
But when he arrived at 6am, all he found were burnt remains of the metal and wooden shacks that served as shops, stores for second hand clothes and workshops.
Soon, he learnt that the store where he kept his boxes was among those destroyed.
"I had 108 boxes to sell and I had hoped that I would store them for the next season. I would have sold them all but I opened the shop late. Now all that is gone. The best I can do now is hope that I can get a decent value for the scrap metal," he said.
Fires in Gikomba are a loss to many and opportunity for a few. Scavengers were sifting through the smouldering rubble looking for anything that can be salvaged – nails, a pair of trousers that endured the fire and so on.
"These nails c an still be used. Once we put them in oil you won't tell the difference," one man said. He was rummaging through the rubble with several magnets, which collected the nails.
Some of the traders sat with their heads between their hands, while others stared blankly.
"We are told that the fire could have started from an electric fault but it is suspicious how fast it spread yet it was raining," Simon Wanyoike said.
Officials from City Hall said the incident is under investigation.