Tuju fights Sh1.5b loan case ruling by UK court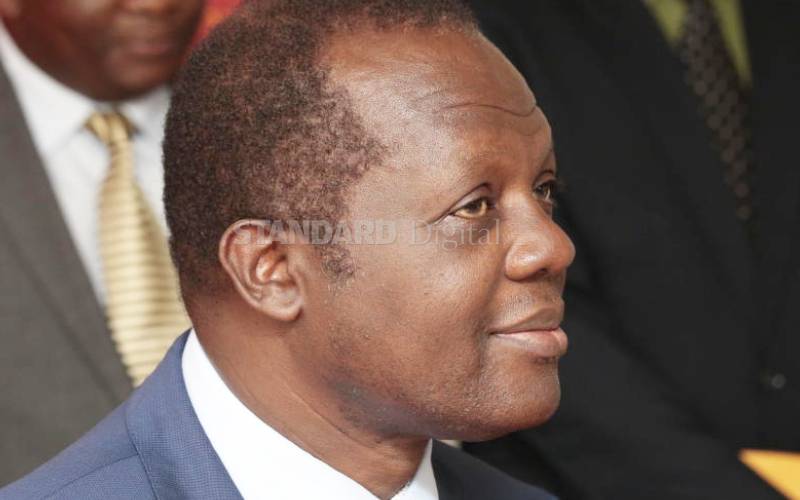 A regional bank clashed with Jubilee Party Secretary General Raphael Tuju (pictured) over a Sh1.5 billion judgement against the politician by a court in United Kingdom.
East Africa Development Bank (EADB) argued the judgment, delivered last year, is enforceable in Kenya, while Mr Tuju's lawyers implored the court to disregard the verdict, arguing he was not given a fair hearing in the UK.
At the heart of the case is a $9.3 million (Sh943.9 million) loan issued to Tuju's firm, Dari Limited.
Tuju, in the case, argues the bank did not honour its deal by disbursing part of the money for the construction of two-storey bungalows, which would then be sold off to service the loan.
While poking holes in the judgment delivered by UK court Justice Daniel Toredano, Tuju's lawyers Paul Muite, Paul Nyamodi and Bridgitte Ndong, argued their client was not given a chance to argue his case and was not allowed to question witnesses who had been fronted by the lender.
The lawyers equated the judgement delivered on June 19, last year, to re-colonising the country, noting that Justice Toledano and the bank's lawyer Michael Sullivan shared chambers, hence there was outright bias.
"Part of the unfairness of this trial in England is that my learned friend shares chambers with the judge. In Kenya it is unacceptable for counsel to share chamber with the judge, having coffee and discussing issues," argued Muite.
He continued: "You will be told by our opponent, you cannot do anything. That we appealed and lost. We are not asking this court to sit on appeal. The issue here is whether the foreign judgement violates the Constitution and public policy."
While denying the allegations, EADB lawyers Githu Muigai, Mr Sullivan and former Uganda Solicitor General Peter Kabatsi, argued that the politician had lost the battle in the UK, first before the High Court and his appeal.
According to the trio, Tuju ought to have sought for a recourse in the UK and not a Kenyan court. EADB lawyers told Justice Wilfrida Okwany that Tuju was seeking to review the orders of the UK court.
The court heard that he had not made any payments or showed commitment to offset the loan.
According to Githu, the UK court judgment meets the Constitutional threshold for it to be enforced in Kenya as Tuju participated in the UK case, and was given an opportunity to even fight on appeal.
The professor of law argued that Tuju is trying to re-open the case afresh in Kenya in a bid to deny his client an opportunity to recover its money.
"The judgment debtor (Tuju) had an opportunity to advance his case in the United Kingdom and which he lost. He cannot be heard to again say here in Kenya that he was not given a fair hearing," argued Githu.